ETS Partners with Raven to Offer New Rate Controller
The SoilWarrior ISOBUS Control Module Powered by Raven
Environmental Tillage Systems (ETS) launches a new precision agriculture product in partnership with Raven Industries, headquartered in Sioux Falls, SD. The new SoilWarrior ISOBUS Control Module powered by Raven, the next generation in precision application rate control, allows farmers to easily connect any brand of tractor with their SoilWarrior strip-tillage and nutrient application system.
"The goal of the new SoilWarrior ISOBUS Control Module is to simplify technology in the cab," said Derek Smith, ETS Precision Ag Account Manager. "From an ETS standpoint, this helps us easily work with the technology farmers already own through ISOBUS technology."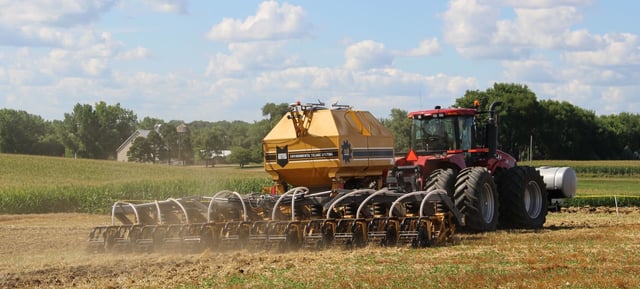 New features provide the user with additional data and integrated control of the SoilWarrior. This new technology is compatible with multiple displays and allows the end user to configure multiple products. It has the ability to connect to any ISOBUS-compliant terminal such as those sold by Ag Leader, Case IH, John Deere, New Holland, Outback, Raven and Trimble. Operators have the ability to control both liquid and dry fertilizer products at the same time, within one module.
Other notable features include pressure monitoring and scale integration. The pressure monitoring feature allows monitoring of row unit downforce in the display as well as tank pressure and hydraulic wing downforce. Scale readouts can be imported into the display as well. A remote display allows the user to perform calibration at the SoilWarrior, eliminating the need for entry in the cab.
"With Raven as a partner, our customers can be assured they are getting a top-of-the-line control module that will provide the product control accuracy they desire in the field," said Smith.
Raven Industries has a proven track-record as a leader in flow and application control. "Raven is excited to partner with Environmental Tillage Systems. With over four decades of Raven application controls experience integrated into it, the Raven Rate Control Module is truly a universal rate controller that meets the needs of any present and future application," said Gregg Witt, Raven Sales Engineer. The new rate controller has been tested and proven in the harshest of Original Equipment Manufacturers reliability environments. "As we continue to innovate, this is a platform that our customers can build on for many years to come," added Witt.
About Environmental Tillage Systems
Environmental Tillage Systems is a premier manufacturer of zone tillage equipment in Faribault, Minn. Its flagship product is the SoilWarrior, a complete strip-till and precision nutrient placement system that enhances soil productivity and farm profitability. ETS products set the standard for in-field performance, machine durability, and ease of operation. Founded on a farm in southeast Minnesota, the company now serves clients in the USA, Canada, Australia, New Zealand and Zimbabwe. To learn more, visit soilwarrior.com.