New Zealand Ag Business Uses Strip-Till to Build Soil Health
Harvest is an opportunity to be thankful for the blessings in our lives. We have a lot to be grateful for at ETS. At the top of the list are our customers who are defending the land and leading the charge. Today we're in New Zealand with a business owner who is ready for planting...
While farmers in the U.S. and Canada are getting into the heat of harvest, at least one ETS customer on the other side of the world has planting on his mind. John Austin, Managing Director of John Austin Limited, and his team are about to head in to their eighth growing season since adopting strip-till in New Zealand.
John Austin Limited is an agricultural contracting business nestled near the city of Te Awamutu on New Zealand's North Island. It began over 30 years ago based on Austin's love for the land, an affinity ag equipment, and drive to farm more efficiently. Today the company has grown to include his son Michael, 45 full time employees, and 35 seasonal employees who provide a variety of services including spraying, fertilizer application, baling, planting, and tillage. They help about 800 customers meet the challenges of farming in New Zealand.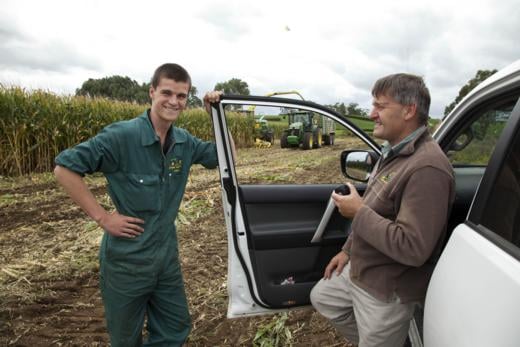 Because the island's landscape is dotted with active volcanoes, the soil is very light and consists of ash and silt. Helping farmers revitalize the soil with organic matter and protect it from erosion were two reasons Austin began researching strip-till in the early 2000s.
His journey eventually took him to the farm of ETS founder, Mark Bauer, in Minnesota to learn more about an innovative strip-till system called the SoilWarrior. ETS Sales Engineer, Dave Sender remembers meeting Austin during that visit.
"John's machine was our first international sale and the first to have active implement guidance," says Sender. "He's one of those farmers who is at the forefront of technology. In fact, his company introduced GPS-based yield mapping technology to New Zealand. We have been fortunate to attract innovative farmers like Austin who embrace new technologies and understand the long-term benefits of building soil health."
Sender was part of the team that built Austin's SoilWarrior and then took it apart and tucked it piece-by-piece it into the shipping crate. He's still the guy Austin calls when he needs replacement parts for his warriors. Austin also owns a SeedWarrior, which comes in handy this time of year when it's time to make the second pass, put down fertilizer, and plant.

Though only 25 of Austin's customers take advantage of this service, they account for 2,500 acres. Since many fields in his area of New Zealand are small by North American standards (5 to 8 acres) this is a pretty good chunk of business. And interest in the practice continues to grow.
Austin follows the ETS methodology of a two pass system. He uses the X row unit with large cog for primary tillage in May and then converts it to the dual wavy coulter for a shallow refresher pass in October. John Deere Green Star RTK keeps the SoilWarrior on the row, year-after-year and field- after-field.
Variable rate technology ensures he applies the right amount of urea, sulfate of potash (SOP), and other fertilizer mixes in the zone to optimize plant growth. The organic matter left by decomposing residue gives the soil a biological boost.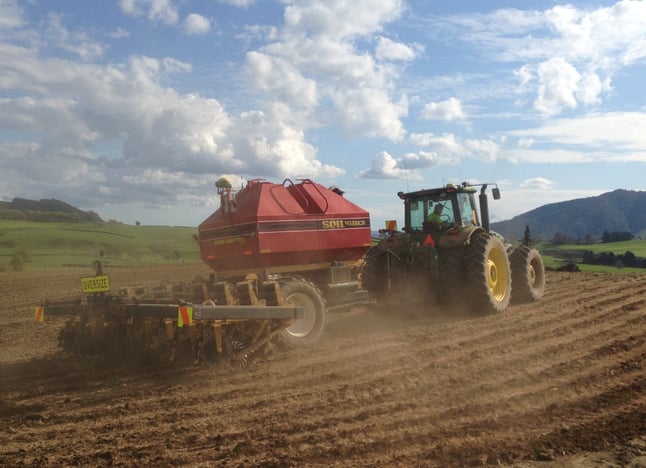 "Customers are starting to appreciate the benefits of building on soil health," explains Austin. Crops grown in New Zealand include grass, wheat, barley, rapeseed, and maize (corn). The SoilWarrior is especially powerful when it comes to growing continuous corn. "Corn yields here range from 160 to 230 bushels per acre. We are working to increase continuous corn yields each season."
With another growing season on the horizon, Austin and his team are excited to begin. It's a great reminder that the business of feeding the world is always in motion and that many farmers across the globe are focused on growing better crops with less impact on the soil.
---
Put the SoilWarrior to work in your field.
Contact us to schedule an on-farm demo.