Social Media Adds to SoilWarrior Experience for Coffman
Dan Coffman isn't just a customer who runs a SoilWarrior. Coffman adds to his SoilWarrior experience by sharing updates from his operation on social media regularly.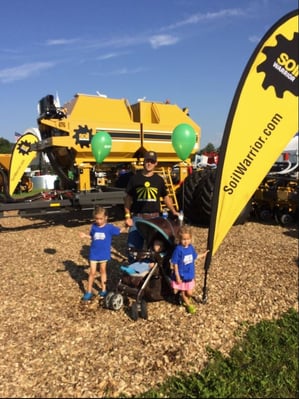 Dan Coffman farms 2400 acres, mainly a corn and soybeans rotation, with his wife's family on their farm and with another family farm near Nicollet, MN. Coffman purchased his own SoilWarrior in 2015, but that was not his first experience with the machine. "I first saw the SoilWarrior at a demo in 2005 with competitor comparisons. In 2013, when I was an agronomist up in North Dakota a customer of mine bought (a SoilWarrior) and I helped him operate it. I have been hooked ever since."
Coffman is very active on social media sharing many pictures and updates throughout the year of daily operations. He shares that his main goal of using social media is to connect with other likeminded farmers to see new ideas and to share his farm's story. You can find Coffman mainly sharing his story on Twitter, @dancfarmer, because he likes the info that is shared on this platform and believes it is more orientated with likeminded individuals.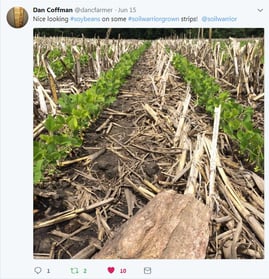 This summer Coffman has been very active with our social media campaign of #SoilWarriorGrown. He says, "It's one thing to share pictures of making strips in the spring or fall, but sharing pictures in the growing season to show that the strip-tilled crops look as good or better than conventionally tilled crops, now that's just awesome! "
Coffman says he also thinks it is important for companies, like ETS, to be active on social media because, "It promotes their product, shows others that it actually is working and is good to educate the public".
----
There are many other ETS customers active on both Facebook and Twitter:
If you want to start a conversation online with farmers like these, use hashtags , #striptill, #SoilWarriorGrown and tag us, @soilwarrior, in your posts.
*Photos provided by Dan Coffman
---
Download our eBook to learn more about SoilWarrior zone tillage.