2021 Welding Intern, Porter Schauer
Environmental Tillage Systems (ETS) welcomes Porter Schauer to the team as the 2021 Welding Intern.
Porter is from Waseca, MN and is a current student at Riverland College in Albert Lea. He enjoyed welding in high school and decided to pursue a future career in it. Porter is excited to extend his knowledge of welding and his experience in the field by having an internship here this summer. "I like to receive tips from the other welders on what I can do to better my work."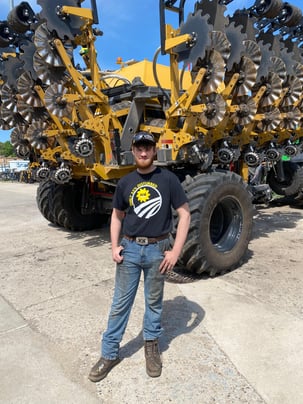 Tony Thompson, Director of Operations, looks forward to helping expand Porter's experience in welding. "We will try to have Porter involved in as many production jobs as possible and try to vary his welding experiences here at ETS. We want to help Porter learn more about his chosen profession and help launch his career."

Outside of welding in the shop, Porter enjoys going hunting, fishing and being part of the pit crew for his neighbor who races on a dirt track.
Welcome to the team, Porter!
---
For more information about Environmental Tillage Systems and our products