2021 Engineering New Hire, Anaiah Legare
Environmental Tillage Systems (ETS) welcomes Anaiah Legare to the team. From 2020 intern to a full-time member of the Engineering Team. Anaiah is from Northfield, MN, and is a 2020 Agriculture Engineering Technology graduate from the University of Wisconsin - River Falls. He spent the summer of 2020 as the ETS Engineering Intern and had many great experiences and opportunities to take with him into a future career. "My internship [with ETS] prepared me well for this role as it got me involved in several different areas of manufacturing projects, from new design work to production support with weld fixtures and maintenance of line items. It allowed me to take ownership of projects and to work with the various teams to understand the underlying issue and then to design a solution for that problem."
Accepting a full-time position has Anaiah excited to continue his career as a Design Engineer with ETS. "My role with the team will be as a design engineer focusing on manufacturing support as well as general engineering design projects. I'm looking forward to doing more design of weld fixtures, as well as racking to move parts from fabrication to final assembly. Coming from a manufacturing/shop background, I'm excited to be in a role where I can use my talent and areas of interest to help design and build weld fixtures that will help increase part precision, repeatability, and cycle efficiency for ETS's team of welders."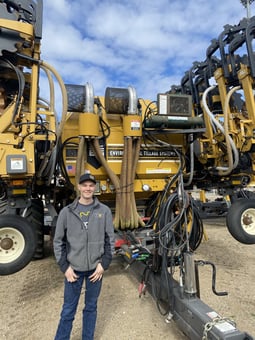 Scott Opsahl, ETS Senior Design Engineer is excited to have Anaiah on his team full-time now. "Anaiah has a strong analytical and manufacturing skillset. As an intern, he was able to help us work on several manufacturing improvements and design projects. As a full-time member of the engineering team, we see Anaiah as critical to accomplishing the implementation of the sandblast and powder coat paint process for ETS. Anaiah will also be involved in the fabrication and testing of design prototypes."

Outside of the engineering office, Anaiah enjoys restoring old tooling and machinery as well as welding and fabricating. He enjoys the design process and creating projects that can easily and accurately be constructed and effortlessly serviced.
Welcome to the team, Anaiah!
---
For more information about Environmental Tillage Systems and our products