2022 Engineering Intern, Nick Kuhlmann
Environmental Tillage Systems (ETS) welcomes Nick Kuhlmann to the team as the 2022 Engineering Intern.
Nick is a junior at North Dakota State University studying Mechanical Engineering, originally from Elko, Minnesota. "I chose this internship because I wanted to expand my knowledge of both engineering and agriculture, and I believe I can do that here at ETS. I am also interested in the design aspect of engineering and prototyping, testing, and production," said Nick.
Nick is excited to be a part of this team and looks forward to the projects he will be able to help with and complete. "For this internship at ETS, I am most excited to work with various teams and see what they do every week. I'm looking forward to seeing what projects the engineering team has for me this summer!"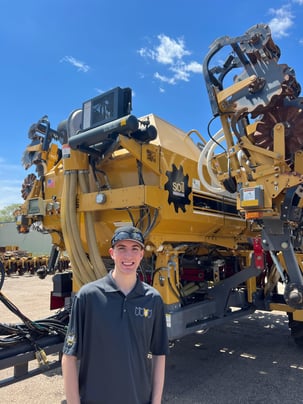 Chris Self, ETS Senior Design Engineer, is excited to have Nick on his team this summer. "Nick is going to offer us much-needed help over the summer months to help us tackle multiple projects promptly."

Outside of the engineering office, Nick enjoys hanging out with his siblings, spending time at the lake, watching or playing just about any sport, and being outdoors camping or hiking.
Welcome to the team, Nick!

Environmental Tillage Systems is a premier manufacturer of zone tillage equipment in Faribault, Minn. Its flagship product is the SoilWarrior®, a complete strip-till system that enhances soil productivity and farm profitability. ETS products set the standard for in-field performance, machine durability, and ease of operation. Founded on a farm in southeast Minnesota, the company now serves clients across North America and internationally.
---
For more information about Environmental Tillage Systems and our products