The word change can be scary. Change in the farming community can often cause sleepless nights and great stress. Making adjustments to your farming operation takes months of careful consideration and research. After all, the average farmer only has the opportunity to plant and harvest a crop fifty times during their lifetime. One wrong decision could impact an operation for years to come.
Switching to strip-till can be one of those mindful changes. Many farmers view switching to strip-till as a lifestyle change. It may mean investing in a new guidance system, managing equipment differently, understanding a new way to apply fertilizer, and learning how to run a different type of equipment.
With that kind of commitment, you want to be sure you've got the right tools and support on your side. At Environmental Tillage Systems (ETS), we believe a hands-on experience is key to making the transition. Our rental program allows you to experience the benefits of the SoilWarrior before committing to purchase.
"I really like that our rental program* gives customers the opportunity to try a SoilWarrior before they have to commit to buying. It's a unique program that enables them to receive 75% of their rental dollars back when they purchase," remarks Jeff Bogaards, ETS Regional Sales Manager.
Erik Mann, a farmer near Mankato, MN, has completed his first season of strip-till with the SoilWarrior and can't wait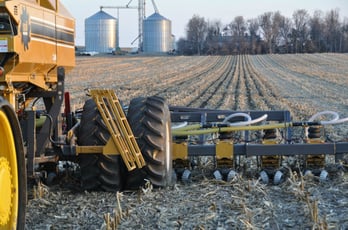 to run the machine again this fall. Prior to spring of 2017, Erik had practiced conventional tillage. It wasn't until the spring of 2016, as he says, "The light bulb turned on." As Erik was planting, he realized that this was the third time he had been in that field. He would come back at least two additional times before harvest. "How can this be stream-lined?" he thought.
Erik was intrigued by the SoilWarrior because it's an all-in-one machine. "I didn't want to be pulling a train around my field. The SoilWarrior is easy to maneuver just like my planter", explains Erik.
For farmers in Erik's position, that have never tried strip-till and are making a huge transition, the ETS Rental Program is a great opportunity to try before you buy. "It is hard to buy a piece of equipment when you don't fully understand the system," remarks Erik.
"Customers need to be able to see how our machine performs on their soils, and it's a great program for that," adds Jeff. "Too often farmers purchase machines that aren't the right fit and they are stuck with them. The ETS Rental Program solves that problem."
"It's not like deciding between a Ford or Dodge; this is a lifestyle change," explains Erik. "This program allowed me to get used to the idea of strip-till and how it works for my operation. I would recommend this program to anyone who asks."
Ray Murphy from Mauston, WI operates a custom business and runs diverse types of tillage equipment depending on the soil type. With equipment costs rising, labor challenges, and disappointment in the results of broadcasting fertilizer, he knew it was time for a change.
When considering the SoilWarrior, Ray was skeptical that he would be able to run it on all soil types. "I didn't believe it when I was told it would work with any soil type. I had to see it with my own eyes." Ray continues. "As I am watching the machine run through all the different soil types, I was amazed with how fast it could run and the heavy duty build of the machine."
As a self-proclaimed "numbers guy" the ETS rental program caught his eye. The rental price per acre was one he couldn't pass up. "Besides having a price that worked well in my operation, the contract was up front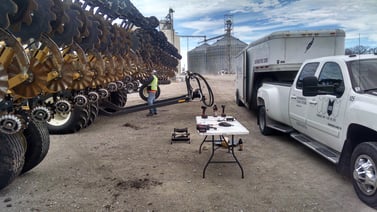 with no hidden fees or stipulations. ETS was also great to work with. They came out with their enclosed service trailer, helped with set up, and made sure I was running correctly before leaving."
After one spring strip-till season Ray noticed that the crops "jumped out" much faster than conventional till and even no-till. When asked if he would recommend the program to others, he quickly responded with a yes, "This is the right way to apply fertilizer, the right way to treat the ground and the right way to improve soil health."
Use the SoilWarrior® for one season. If you choose to purchase a new machine at the end of the contract, you can apply 75 percent of your rental payment toward the transaction. If it's not right for your farm, you can return it. It's that simple.
* Acreage minimums may apply. Cost per acre depends on SoilWarrior equipment options selected and geography.
---
Ready to take the first step and try the SoilWarrior on your ground?