Meet the Service Interns, Jack Bjerke and Trevor Otterson
Environmental Tillage Systems (ETS) welcomes Jack Bjerke and Trevor Otterson to the team as the 2023 service interns.
Jack is a senior at Iowa State University studying Agricultural System Technology, originally from Dunlap, Illinois. Jack grew up in a community surrounded by agriculture. His experience includes working for a number of row crop farmers. Jack has an appreciation for agriculture and is ready to learn more about how ETS contributes.
"I chose this internship because I wanted more hands-on experience with agriculture," said Jack. "I was fascinated with the technology ETS uses and wanted to learn more. I believe ETS will give me skills to succeed in the future and provide networking opportunities to grow my skills and knowledge."
"We're excited to have Jack as a part of the team, and I am looking forward to sharing my passion for precision agriculture with him," said Scott Kelsey, ETS precision ag manager.
"I am most excited about attending tradeshows and learning about the technology that SoilWarrior has to offer," said Jack. "My goals this summer are to learn more about the technology within the agriculture community."
Outside of Jack's internship, he is a member of the AST (a) club and ATC (antique tractor club) at Iowa State. In his free time, he enjoys boating, golfing and bowling.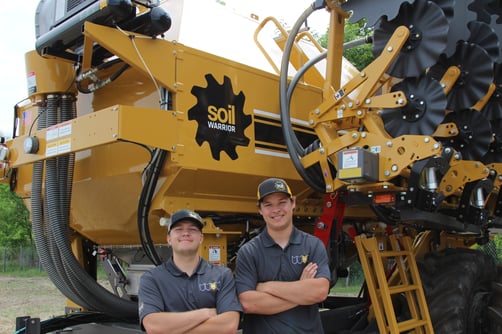 Pictured above: Trevor Otterson and Jack Bjerke
Trevor is a senior at North Dakota State University studying Agricultural Systems Management, originally from Owatonna, Minnesota.
"I chose this internship to further my knowledge of agriculture," said Trevor. "I have always had a passion for agriculture and learning what the next advancements of society will be."
Trevor grew up in a small-town community with a hobby farm. His experiences include construction, landscaping and operating machinery. He is happy to utilize these experiences in his internship with ETS.
"It's exciting to have two interns on the service team," said Kelsey. "I am looking forward to helping Trevor learn more about the improvements of technology used on a SoilWarrior."
"My goals are to learn more about what agriculture has to offer and make more connections," said Trevor. "I am excited to attend a tradeshow and learn about SoilWarrior technology."
Outside of his internship, Trevor enjoys hunting, fishing and traveling with friends and family. Throughout college, he has been involved in intramural teams of basketball and flag football.
Jack and Trevor's internship experience includes learning RND (research and development) technology, assisting with service calls and attending tradeshows.
Welcome to the team Jack and Trevor!