ETS Welcomes Andrew Geraets, Service Technician
Environmental Tillage Systems (ETS) is eager to have Andrew Geraets a part of the team as a Service Technician. Andrew will be supporting SoilWarrior clients in his home state of South Dakota and the surrounding states. Excellent customer service is priority for ETS, and Andrew will do a great job of putting our customers first.
Andrew brings a unique perspective to the ETS service team. At his previous employer, it was his responsibility to operate and maintain a SoilWarrior. Andrew knows how to get the machine running at it's optimal performance, and he understands the potential of zone tillage. He also has an interest in wind energy, heavy machinery operation and agriculture. Andrew recieved a degree in Wind Energy Technology from Minnesota West Community and Technical College.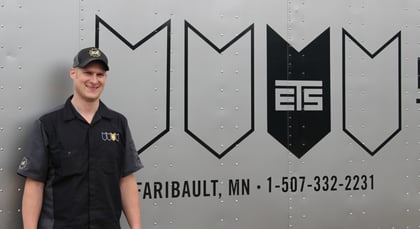 Tanner Schuldt, ETS Service Manager, shares his ethusiasm as he welcomes Andrew to the ETS team. "I am very excited to have Andrew joining the team, his attitude and ability to learn coupled with the experience he has from running a SoilWarrior will certainly make him a valuable asset to ETS and the customers in his area."
Environmental Tillage Systems is a premier manufacturer of zone tillage equipment in Faribault, Minn. Its flagship product is the SoilWarrior, a complete strip-till system that enhances soil productivity and farm profitability. ETS products set the standard for in-field performance, machine durability, and ease of operation. Founded on a farm in southeast Minnesota, the company now serves clients in the USA, Canada, Australia, and New Zealand.
---