This blog is part of a podcast series following one Minnesota farmer through a season of strip-till. Scroll down to listen to the full audio episode.
Shortly after he planted them, Ed Hegland dug his fingers into the freshly planted soil to see how much of moisture was available for his soybean seeds. The beans, planted about two inches below the surface, were resting in adequate moisture. Considering the widespread lack of moisture in his region tracing back to last fall, from last fall, this was a good sign.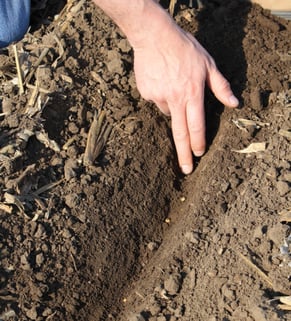 Then the rains came. Ordinarily spring rains are welcomed. But in this case, more than 5 inches fell leaving too much of a good thing. Ponding was an issue on many farm fields, in some cases impacting seed emergence and stands.
Jodi Dejong-Hughes has been with the University of Minnesota for 18 years, working in the area of crops and tillage research. She says water carrying capacity is a benefit of soils that are strip-tilled.
"Within a year or two of when you go to strip-till, you'll have better water infiltration and those ponding areas actually decrease," Dejong-Hughes says.
Hegland has practiced conservation tillage on his farm for several years. After researching strip-till, he jumped in with both feet, without looking back.
"Conservation is very important to me," Heglands says. "I would be willing to give up some yield to be doing what I feel is the right thing, but I'm not giving up yield. I feel like my yields are on par with anyone doing conventional tillage."
The conservation aspect is important to Hegland. Because only about one-third of the soil is his fields is actually tilled, the rest holds residue and prevents wind and water erosion. The practice also helps him score highly in government conservation programs.
"What this has allowed me to do is to be part of the Environmental Quality Incentive Program (EQIP) and the Conservation Stewardship Program (CSP)," he adds. "Plugging into their formula the fact that I am strip-tilling, puts me at a higher score to enroll in the CSP program, so that's been a big benefit to my farming operation."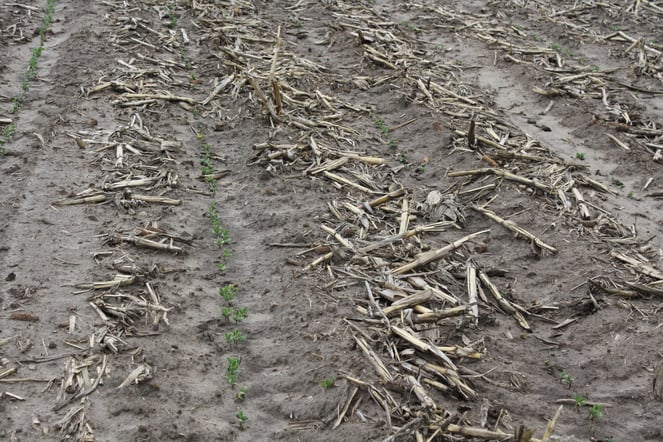 While government programs reward farmers like Hegland for conservation practices, they also have to stand on their own merits. DeJong-Hughes is an advocate for reduced tillage practices like zone-till because it protects the soil, offers precise nutrient delivery and generally results in comparable or even increased yields.
"What I like to show farmers is that you don't have to moldboard plow, you don't have to do 14 inches of disk ripping, you can just till one-third of the soil and get those yields and protect the soil and get the best of both worlds," Dejong-Hughes adds.
Hegland's SoilWarrior system is parked for the season and his corn and soybeans are starting to grow. We'll continue to follow the progress of the crops in upcoming podcast episodes.
Listen to the full audio
Click to listen to past episodes.

Learn more about the benefits of zone tillage with the SoilWarrior by downloading our free ebook today!