This blog is part of a podcast series following one Minnesota farmer through a season of strip-till. Listen to the full audio episode by scrolling to the bottom.
Despite getting his crops planted in good time this spring, emergence on Ed Hegland's corn and soybeans has lagged because of cool, wet weather. Heavy and persistent spring rains and even a touch of late frost in May slowed the development of both crops, something strip-till farmers and full surface tillage farmers dealt with equally.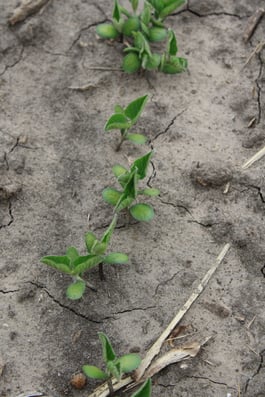 "It's been really a challenge," Hegland says. "Planting season went pretty well, but we've had some really cool weather and lots of rain, which has been good, but a lot of it came to fast and too much at once. Plus we had some frost on some beans when they were emerging."
The cool weather has resulted in slow emergence and some discolored corn. While rains did come heavily at times, Hegland's fields saw less ponding than most. The additional crop residue left on the soil because only narrow zones are tilled, creates a good growing environment that also builds water holding capacity.
"It certainly does have better water absorption. When the rain falls, that residue on the surface prevents it from running rapidly downhill, it keeps it in place so it's spread out more evenly. I had a lot less ponding than a lot of fields around," Hegland adds.
Jodi DeJong-Hughes is an extension tillage specialist for the University of Minnesota. After nearly two decades of soil research, she says strip-till is an excellent practice for building soil health.
"Soil protection is the number one thing," DeJong-Hughes says, "loss of the soil, reduced erosion from either water or wind and just building up soil structure and helping with water infiltration, so you have that protection. You have where that soil is going to warm up where you plant the seed and it's like conventional tillage in that area, but then you have all the benefits of no-till."
Hegland agrees that after years of doing zone till, he's seen a positive change in the quality of soil on the acres he farms. And he's not the only one who's noticed.
"I dig in my strips looking for why seedlings haven't emerged or I'm watching them emerge and it's just a nice tilthy soil. I've had one agronomist compare it to potting soil," Hegland says. "I don't need to use a shovel to get down into the seed zone or the root zone, plus I just see earthworms out there everywhere and I know that's proof of healthy soil."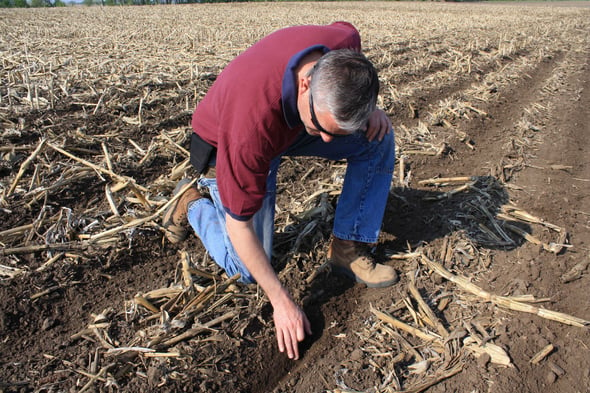 As the weather warms, Hegland's efforts have turned to scouting fields and spraying for weeds. By mid-June he expects to side-dress his corn with 28 percent nitrogen for an in-season boost. Later, he'll scout for yield-robbing pests like corn rootworm and soybean aphids, deciding whether action is needed.
While most of his heavy fieldwork is over for the spring, scouting is an ongoing process that Hegland undertakes through the Season of Strip-Till.
Listen to the full audio episode
Learn how you can make a better bed with the SoilWarrior by downloading our ebook today.