Meet the Marketing and Communications Intern, Jillian Woodall
Environmental Tillage Systems (ETS) welcomes Jillian Woodall to the team as the 2023 Marketing and Communications intern.
Jillian is a senior at Iowa State University studying journalism/mass communications, originally from Kamrar, Iowa. Jillian grew up on a diversified row crop family farm and is learning how small the agricultural world is. Jillian's dad and our regional sales manager, Sean Arthur, worked together at Pioneer. Jillian is excited to be a part of the Marketing and Communications Team.
"I chose this internship because I wanted to learn more about how social media influences agriculture and how analytics can help a company to direct its messages to the correct audience," said Jillian.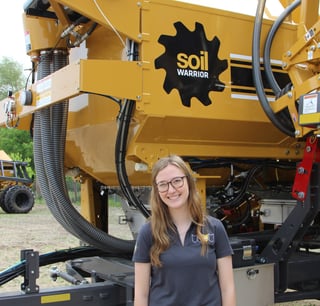 Jillian Woodall
"The ETS marketing team is excited to welcome Jillian to the team this summer," said Kristin Krell, ETS marketing and communications manager. "Jillian has continued to show us she has a true passion for agriculture and is committed to learning how our team represents the ETS brand. As we help her understand strip-till and our equipment, we look forward to seeing what she will teach us too."
Jillian has already contributed a lot to the marketing team. She created a dairy social media campaign for June Dairy Month and she is working on videos, reels, ads and helping the marketing team prepare for the summer tradeshows. She is very excited to attend some of the summer shows with the regional sales managers.
Outside of Jillian's internship, she is a member of three honor societies and is the current president of her sorority, Alpha Gamma Delta. A fun fact about Jillian is that she is a twin. In her free time, she enjoys boating, traveling and spending time with family. After college, Jillian hopes to work in agriculture helping a company with their social media marketing and helping to plan their events.
Welcome to the team, Jillian!