ETS Welcomes New Marketing Coordinator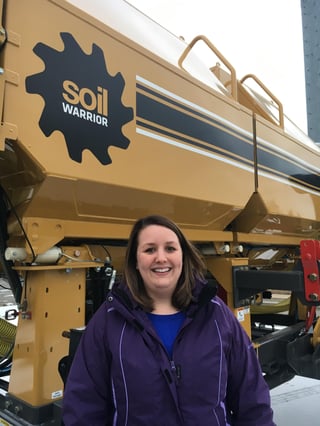 Environmental Tillage Systems (ETS) is proud to welcome Kristin Krell to its sales and marketing team as the Marketing & Communications Coordinator. In this role, she will assist the Marketing Director with implementing the company's comprehensive marketing strategy, which includes managing social media accounts, maintaining promotional materials and planning meetings and tradeshows.
Krell previously worked for the University of Minnesota Extension as the Mower County 4-H Program Coordinator where she was responsible for program leadership, volunteer development, marketing and recruitment. She is a graduate of South Dakota State University with a bachelor's degree in Agricultural Education. Krell grew up on a farm near Medford, MN and now resides in Blooming Prairie, MN.
"We are so happy to have Kristin on our team. Her experience with communications and event coordination will be valuable assets to our company as we continue to grow," says Caitlin Keck, ETS Marketing & Communications Director. "Kristin's agricultural background and understanding of conservation tillage practices is a bonus."
Environmental Tillage Systems is a premier manufacturer of zone tillage equipment in Faribault, Minn. Its flagship product is the SoilWarrior, a complete strip-till system that enhances soil productivity and farm profitability. ETS products set the standard for in-field performance, machine durability, and ease of operation. Founded on the farm in southeast Minnesota, the company now serves clients in the USA, Canada, Australia, and New Zealand. To learn more, visit soilwarrior.com.