Greg's Strip-Till Guidance
When talking with a grower that doesn't practice strip-till or has never heard of the SoilWarrior, I often remind myself about what drew me to the SoilWarrior and put myself in their shoes.
I was drawn to ETS and the SoilWarrior by the progressive solutions-based approach they take while remaining close to their customers and their changing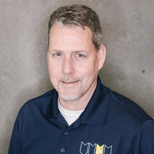 needs. My relatives and a few other local growers transitioned to strip-till almost 17 years ago. I have observed and learned firsthand about the positive impact this cropping system can have in terms of economic and agronomic benefits while improving soil health and reducing soil and nutrient losses.
As I grow my career at Environmental Tillage Systems (ETS), there are six points that I want everyone to understand about ETS and the SoilWarrior.
ETS is not here to tell you how to strip-till. For example, time of year or type of fertilizer product. ETS is proud to build a complete strip-till machine that works with your current operation.


Coulter vs shank. After learning more about the advantages of the SoilWarrior coulter options, performance and results in terms of residue, soil, air, and nutrient placement along with the results and efficiencies our customers are achieving, I have been nothing but impressed.


A properly maintained machine will run for years over many acres. The original SoilWarriors are still going strong after 15+ years, and many have run over 40,000 acres.


Fertilizer delivery. The SoilWarrior allows for better fertilizer availability to the plant roots while significantly reducing the potential for root burn, even at higher application rates. This is possible because the fertilizer is mixed throughout the zone, not in a band.


This is all ETS does; we eat, breathe, and sleep strip-till and are here to fully support you from hitch pin to the rolling basket.


Anybody can make a nice-looking strip – what matters is what is going on below the surface in terms of soil structure, air, and nutrient placement.
ETS employees and dealers are passionate about delivering solutions specific to every farm. We look forward to helping you understand how strip-till can and will work for your operation.