ETS Welcomes Greg Hallenbeck, Regional Sales Manager
Environmental Tillage Systems (ETS) is excited to welcome, Greg Hallenbeck, to the ETS team as a Regional Sales/ Key Account Manager. Greg will manage regional sales and local co-ops with innovative agricultural equipment, SoilWarrior.
---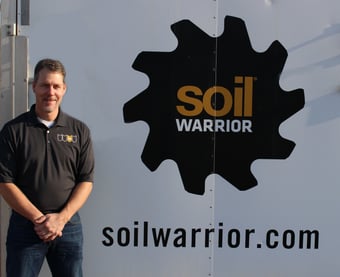 Hallenbeck brings over twenty years of work experience in the agricultural equipment industry. These roles have included domestic and international sales, product development, and technical service.
Hallenbeck enjoys helping with crop and livestock production on relatives farms, home improvement, mechanical repair, camping and canoeing when time allows.
Brent Brueland, Vice President of Sales and Marketing shares his excitement, "Greg brings with him a wealth of agricultural experience. He has a robust background in U.S. production agriculture and agricultural equipment as well as many years of international experience – experience that helps bring new perspectives and ideas to the ETS team and our customers. We are excited for Greg to begin to share his knowledge, problem solving abilities, and solution-based mindset with his customers and others in his territory and beyond."
Hallenbeck says, "I was drawn to ETS and their products by the progressive solutions-based approach taken while remaining close to their customers and their changing needs. My relatives and few other local growers transitioned to strip-till 15 years ago. I have observed and learned firsthand about the positive impact this cropping practice can have in terms of economic and agronomic benefits while improving soil health and reducing soil and nutrient losses."
Environmental Tillage Systems is a premier manufacturer of zone tillage and nutrient placement equipment in Faribault, Minn. Its flagship product is the SoilWarrior, a complete strip-till system that enhances soil productivity and farm profitability. ETS products set the standard for in-field performance, machine durability, and ease of operation. Founded on a farm in southeast Minnesota, the company now serves clients in the USA, Canada, Australia, New Zealand, and Zimbabwe. To learn more, visit soilwarrior.com.
---
For more information about Environmental Tillage Systems and our products