5 Characteristics of a Good SoilWarrior Operator
Purchasing new farm equipment takes time and consideration. Equally important is finding an operator for your new piece of equipment. At Environmental Tillage Systems (ETS), our customers often tell us one key to their success is having a skilled operator for their SoilWarrior.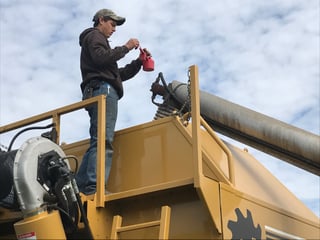 Two SoilWarrior operators, Chris Leske, and Brayden Schultz (pictured right), shared some insight on what makes a good operator.
With the help of Chris and Brayden, we have determined the top 5 characteristics of good SoilWarrior operators.
1. Attention to Detail
Successful operators are always paying attention to all settings and parts of the machine. This way if something isn't running right they will be able to fix it on their own or know who to ask. Schultz agrees with this saying, "Become familiar with the machine- how it functions, where everything is at. Get familiar so you know how to adapt and overcome changes." Technology and parts are items that Schultz worked hard to learn and understand.

2. Continuous Learner
When you first receive your SoilWarrior it will be a new learning curve. Your ETS sales representative and service technician will be glad to help you, but top operators are comfortable with trying things on their own. Trial and error is key to find what works best in your soil conditions, with your machine, and the technology you use. Both Leske and Schultz mentioned that the way they learned how to operate their SoilWarrior was through "trial and error". For Leske trial and error ranged from speed and depth to fertilizer and application. You never know if something will work out unless you try it.

3. Planner
There is only a small window of time in either the fall or spring to complete all the work you need to get done. It is important for owners and operators to have their machines prepped and ready to go whether this means greasing, fixing parts, or just figuring out a game plan. People who plan and think ahead will likely have fewer issues to face during "go time". Many successful operators also do this preparation work themselves or oversee it.

4. Self- Motivated
Another characteristic of a successful operator is to be self-motivated. There is never enough time in any season to get everything done. If an operator is not self-motivated, it can take up the time of the owner or other employees to continuously be checking in on the operator. Schultz says, "(I want an operator who is) someone who isn't afraid to get out and look, someone who isn't just the driver". If the operator is dedicated to doing the best job everyone will benefit from it. "You're setting your planter up for success. Think about it in the same way the guy running the planter would".

5. Passionate
Top operators enjoy their time in the SoilWarrior. They view their time as something that is different and setting a good example for others. Leske says, "I enjoy it because it is something different to the area. Every farmer operates a combine, but this is different." Many operators view their SoilWarrior as something that they are becoming proficient in and want their work to create the best seedbed for the planter in the spring in order to grow the best crop. A top operator also trusts the process. Schultz says, "I have confidence in the machine. I know it will go through the various soil types and conditions (that I run it in)".

Finally, it all comes down to being confident in your purchase. You chose the SoilWarrior for specific reasons; trust it will work for you and your operation. "Glad we went the route in purchasing the (Soil)Warrior, it is an easier machine since it is all in one. Doesn't have a cart and a long train. It is all contained and easy to maneuver," Leske says.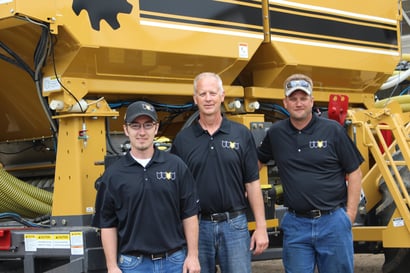 Pictured above: Ryberg Farms - Chris Leske (SoilWarrior operator), Brian Ryberg & Jason Anderson
------------------------------------------------------------------------------------------------------------------------------------------------------------
Chris Leske works and operates a SoilWarrior on Ryberg Farms in Buffalo Lake, MN. He is the lead SoilWarrior operator on the farm. Ryberg Farms runs 3,000 acres of corn, soybeans and sugarbeets and operates a 4544SXD SoilWarrior, a 24-row, 22-inch machine with X row units for fall strip-tillage and nutrient placement.

Brayden Schultz is from Wells, MN. He and his father, Jeff, raise hogs and run 870 acres of corn, soybeans and oats and operate a 3120SXD SoilWarrior, an 8-row, 30-inch machine with X row units. The Schultz family have completed their strip-tillage in both the fall and spring in the past. They now do just fall strip-tillage and nutrient placement with the SoilWarrior.
Environmental Tillage Systems is a premier manufacturer of zone tillage equipment in Faribault, Minn. Its flagship product is the SoilWarrior®, a complete strip-till system that enhances soil productivity and farm profitability. ETS products set the standard for in-field performance, machine durability, and ease of operation. Founded on a farm in southeast Minnesota, the company now serves clients across North America and internationally. To learn more, visit soilwarrior.com.