ETS Partners with 4R Nutrient Stewardship Program
SoilWarrior® Helps Farmers Achieve Results with Precision Nutrient Placement
Environmental Tillage Systems, Inc. (ETS) is proud to announce our partnership with the 4R Nutrient Stewardship program.
The 4R philosophy is an innovative and science-based approach that offers enhanced environmental protection, increased production, increased farmer profitability, and improved sustainability. Years of research and agricultural practice have been devoted to finding ways to manage nutrients by examining the role of source, rate, time, and place. This research has resulted in the concept of using the 4 Rs: right fertilizer source, at the right rate, at the right time, with the right placement.
Within the past few decades, major progress has been made in the development of tools to help farmers manage crops with less impact on the environment. Our SoilWarrior® system is one of these tools, helping farmers reduce their tillage, target nutrient placement, build soil productivity, and increase their profitability through reducing inputs and maintaining yields.
The SoilWarrior is a complete strip-till system that uses variable rate technology to place the right amount of fertilizer on each acre. Row units blend and incorporate the fertilizer within a tilled zone for ideal plant uptake. Residue left on the field between rows holds soil in place to reduce erosion, increase water infiltration, and break down to supply the soil with nutrients and build organic matter.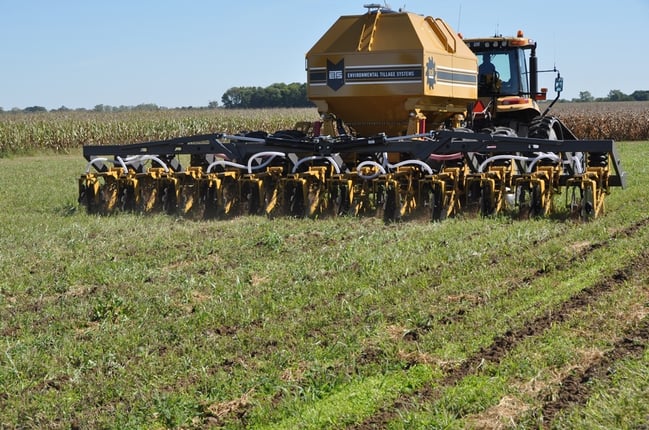 "Our SoilWarrior product line takes a leadership role in accomplishing the goals of 4R Nutrient Stewardship," explains ETS CEO Kevin Born, a cash crop farmer with a background in agronomy who utilizes the SoilWarrior on his family's farming operation. "With increased scrutiny from the public and government on farm practices, growers are seeking new solutions for their businesses that are profitable, sustainable, and more environmentally-friendly. This partnership confirms our commitment to helping them defend the land and lead the charge through precision tillage and nutrient application."
The 4R Nutrient Stewardship program is managed and endorsed by the International Plant Nutrition Institute, The Fertilizer Institute, and The Canadian Fertilizer Institute. To learn more about the program, other partners, and resources visit www.nutrientstewardship.com. This includes a pocket guide to 4R Nutrient Stewardship and tips to help growers sustainably maximize their fertilizer usage.
ETS manufactures conservation tillage and integrated precision nutrient management equipment in Faribault, MN. Our products set the standard for in-field performance, durability, and ease of operation, while promoting soil productivity. We take pride in providing progressive farmers throughout the world with innovative systems that help them profitably rebuild and revitalize the land.