2022 Marketing & Communications Intern, Kristine Schechinger
Environmental Tillage System (ETS) is excited to welcome recent University of Minnesota graduate, Kristine Schechinger, as one of the Marketing and Communications summer interns. This fall, Kristine will begin her graduate program at Texas Tech University majoring in Agricultural Communications.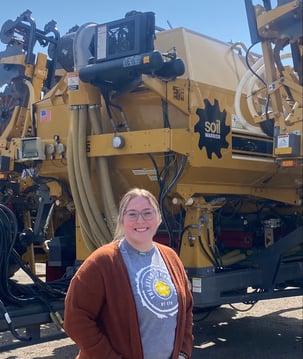 Growing up in Southern Minnesota on a small hobby farm with her dad, mom, and sister, Kristine raised various livestock species. In her later years, she became active in showing beef and sheep. Her involvement in organizations such as FFA and 4-H grew her love for the agricultural industry.
"What I enjoy the most about the agricultural industry is the people I have met. I've visited with producers from across the country and they have always been willing to share their experiences and help in any way that they can. They are truly
some of the best people I have interacted with," Kristine said. "I chose this internship because it is the perfect blend of my interests in marketing and communications, and agriculture. I'm excited to combine both of these passions to work together in tandem!"

With Kristine's passion and experience in the agricultural industry, we are excited to welcome her to the team. "Kristine is a great addition to the ETS marketing team," said ETS Marketing Director, Caitlin Keck. "From prior internship and college experiences, she brings skills in content development, photography, videography and event planning to our team. We look forward to teaching Kristine about our business and industry while also learning from her and implementing new ideas."

Throughout her internship at ETS this summer, Kristine will have the opportunity to participate in and complete projects all across the marketing and communication spectrum. She will be traveling to trade shows, creating social media content, and growing our photo and video albums to name just a few.

"I'm excited to be able to center this internship around areas in marketing and communications that I'm most interested in. I enjoy writing and creating graphic pieces, so being able to focus portions of this internship around these areas is something I'm looking forward to," said Kristine. "My goals moving forward for this internship are to further my knowledge and understanding of working in this field and how to utilize the best strategies when sharing stories."

Kristine graduated this May with a Bachelor of Science in Agricultural Communication and Marketing with minors in both Agricultural and Food Business Management and Animal Science. While on campus, Kristine stayed quite busy. She was a member of the University of Minnesota's Livestock Judging Team, Beta of Clovia Sorority, and held multiple executive positions with the Block and Bridle Club, Minnesota Royal Executive Team, and the Agricultural Education, Communication and Marketing Club.

Welcome aboard, Kristine!
Environmental Tillage Systems is a premier manufacturer of zone tillage and nutrient placement equipment in Faribault, Minnesota. Its flagship product is the SoilWarrior®, a complete strip-till system that enhances soil productivity and farm profitability. ETS products set the standard for in-field performance, machine durability, and ease of operation. Founded on a farm in southeast Minnesota, the company serves clients throughout North America and internationally. To learn more, visit soilwarrior.com.
---
For more information about Environmental Tillage Systems and our products