ETS Welcomes Scott Kelsey, New Precision Ag Manager
Environmental Tillage Systems (ETS) is excited to add Scott Kelsey to the team as the new Precision Agriculture Manager. Scott is a 2018 graduate of Iowa State University and has great experience to bring to the table for ETS.
---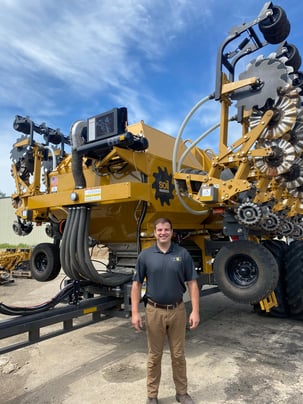 Growing up in the agriculture community of Sidney, NE, Scott didn't have much of an agriculture background until he began attending college his freshmen year at Iowa State University. "One of my friends took me out to his farm and showed me how tractors could steer themselves. This was before Tesla had come out so I just thought this was the coolest technology I had ever seen. I asked my friend what major I needed to be in to study that kind of stuff, and he pointed me to ag systems technology. I changed my major that next Monday, and the rest is history."
Scott looks forward working with the SoilWarrior and its technology. "What I am most excited about with my employment at ETS is seeing all of the new possibilities we can have with technology on our machines. I have seen all the great things that Gavin brought to the development of our machines, and I am looking forward to picking up the torch and seeing where we can go from here."
Since his graduation in 2018 from Iowa State with a double major in Ag Systems Technology and Industrial Technology, Scott has gained great experiences that will benefit ETS and the SoilWarrior.
"I'm looking forward to the wide range of remote support experience he brings to ETS," said Mark Hewitt, ETS Service Manager. "His past experiences will greatly benefit our remote troubleshooting ability. I'm also looking forward to his help and ideas for taking our SoilWarrior ISOBUS Control Module to the next level of functionality for our growers."
In Scott's free time, you can find him watching any sports, wakeboarding or snowboarding depending on the season and occasionally, golf.
Welcome to ETS, Scott!
---
For more information about Environmental Tillage Systems and our products