2020 Marketing & Communications Intern, Catie Schmidt
Environmental Tillage System (ETS) is excited to have Catie Schmidt as the Marketing and Communications summer intern. This fall, Catie will begin her senior year at the University of Minnesota majoring in Agricultural Marketing and Communications with an emphasis in crops and soil sciences.
---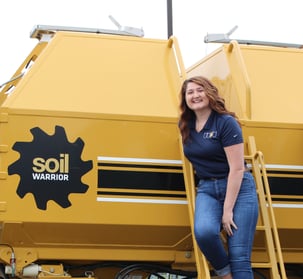 Growing up in the small town of Almond, WI, Catie has been surrounded by agriculture her whole life. Agriculture is a part of her, and she loves learning about all aspects of the industry. Catie shares why this internship appealed to her. "I was excited for the opportunity to finally put together all that I have learned in college and the experiences I have had last few years to work. I grew up around agriculture and found a passion for it at a young age. I worked in a potato research lab for four summers starting the summer after my sophomore year in high school. Between that experience working in agronomy and my previous internship as an event and marketing intern last summer, I thought this would be the perfect fit to finally have all those experiences wrapped into one."
"We're really excited to have Catie on our team," said Caitlin Keck, ETS Marketing & Communications Director. "While the summer may look a little different with fewer large tradeshows and events, Catie will still have the opportunity to get creative and use her experience with event planning and social media management to help our brand connect with customers and future SoilWarrior owners. Summer interns are a valuable part of our team, and Catie will no doubt have a positive impact on our marketing efforts over the next three months."
Catie is involved in many extracurricular activities on campus; Agricultural Education, Communication, and Marketing Club, Agricultural Awareness Day, and Beta of Clovia Sorority are just a few. When she isn't studying or attending a meeting, you can find her binge-watching TV series, reading or hanging out with friends and family.
Environmental Tillage Systems is a premier manufacturer of zone tillage and nutrient placement equipment in Faribault, Minnesota. Its flagship product is the SoilWarrior®, a complete strip-till system that enhances soil productivity and farm profitability. ETS products set the standard for in-field performance, machine durability, and ease of operation. Founded on a farm in southeast Minnesota, the company serves clients throughout North America and internationally. To learn more, visit soilwarrior.com.
---
For more information about Environmental Tillage Systems and our products