This blog is part of a podcast series following one Minnesota farmer through a season of strip-till. Listen to the full audio episode by scrolling to the bottom.
A wet May gave way to a gorgeous June for farmers in western Minnesota's Lac Qui Parle County. Ed Hegland, who grows corn and soybeans south of Appleton, Minnesota watched as his crops took advantage of the warming sun and adequate rainfall to grow strong and healthy on his zone-tilled fields. But as is often the case, weather can be fickle…for Hegland and many of his neighbors, July entered with a bang.
"About half my corn and probably 35 to 40 percent of my beans got hit really hard," Hegland says. "Strip-till does great things but it doesn't save me from hail."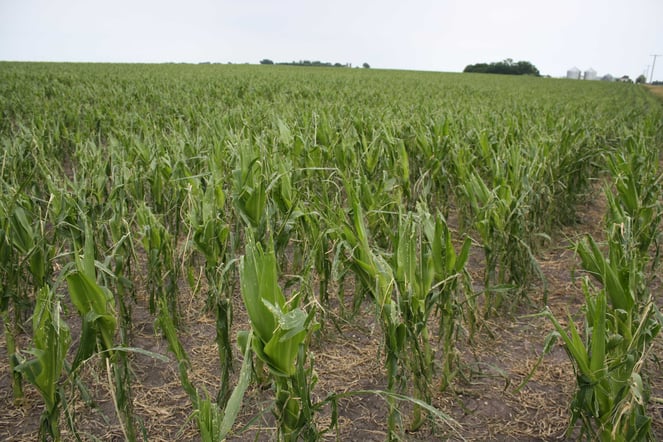 An early July hailstorm damaged or destroyed tens of thousands of acres of crops in western Minnesota. As farmers know, despite their best planning and intentions, they're left to deal with factors beyond their control.
"You never know whether it's going to be too dry or too wet or if you'll get a wind storm or hail storm," he adds. "Insurance covers pretty well but it's nothing like having a good crop, especially as good as that was looking."
Compared to conventionally-tilled crops in the area, Hegland says his crops look every bit as good. Those not impacted by hail are developing nicely. Soybeans are flowering and the shoulder high corn isn't far from tasseling.
Weather is the wildcard that farmers work with but can't control. However, Hegland says practices like zone-till farming help growers better deal with some of Mother Nature's extremes.
"Strip-till and reduced tillage really does help with water erosion. There's better soil structure, more organic matter, roots from the previous year holding the soil in place, so it really does make a difference," he says.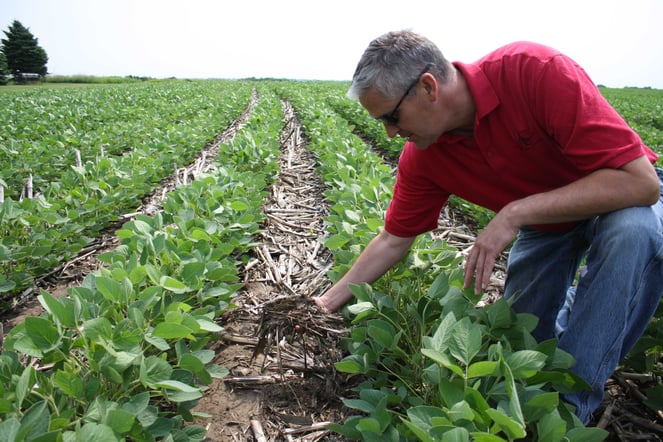 Hegland says he recently finished side dressing 28 percent nitrogen on his corn and spraying post-emergent herbicides to treat weeds. Now his primary focus is on scouting for pests like soybean aphids and for weeds that may have escaped herbicide treatments. Weed control is an on-going concern for all farmers, but Hegland says the residue strip-tillage leaves behind does help suppress weeds.
"I think there's a lot less weed pressure because you're not tilling the soil and giving that weed seed a good bed to be growing in," Hegland explains. "There's one field where we did some tiling so we ripped it last fall and field cultivated it this spring and we had way more weeds in it this spring than on our strip-tilled ground just because we've rolled that soil over and stirred up all that seed from years and years ago and it all is growing this year."
For the next few weeks, Hegland's primary role will be to scout his growing crops. He'll also keep a watchful eye on the skies for more storms. Listen to other podcast episodes.
Listen to full audio episode:
FREE RESOURCE
Add to your strip-till knowledge by downloading our ebook today!