This blog is part of a podcast series following one Minnesota farmer through a season of strip-till. Listen to the full audio episode by scrolling to the bottom.
For farmers like Ed Hegland, experience is a good teacher. He's been strip-tilling his Lac Qui Parle County corn acres since 2008 and his soybeans since 2012. Since the goal of farming is productivity while caring for the land, Hegland doesn't go at it alone, but utilizes available expertise to get better at what he does.
"The University of Minnesota Extension people, some of the agronomists with the seed companies around or with the co-ops, I listen to their advice or seek their advice on different issues or just talk to some neighbors to find out what they're seeing in their fields," Hegland says.
Clint Schindler is one of Hegland's resources. Schindler is a crop consultant for Centrol Crop Consulting, his territory includes Lac Qui Parle County along Minnesota's western border. Schindler works with a wide range of farmers to provide unbiased information on crop planning, nutrient management, scouting, herbicide management and more.
While he works with more conventional farmers than strip-till farmers, Schindler says there are noticeable differences in what he has seen on Hegland's land.
"This winter I drove past his fields several times in my travels, I look at what he's done with his residue," Schindler says. "We do have a tendency to be dry out here, so I look at all the snow he catches out here in the wintertime and it just sits there. That's very valuable regarding spring moisture. And around his fields you don't see the topsoil blowing into the ditches."
Schindler says for strip-till farmers, early season weed control is very important, even though crop residue can help suppress weeds.
Because only a portion of the soil is tilled, nutrient placement in zone tillage is very precise. Schindler has worked with Hegland to grid sample his fields and develop a management plan that maximizes the yield potential in each area of the field.
"What we're trying to do with the variable rate applications, with Ed in particular, we're trying to place our nutrients where they'll be most beneficial and avoid nutrient loading," Schindler adds. "It goes back to agronomics and being economical for the farmers as well."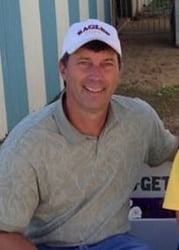 Another of Ed's resources is neighbor and Dekalb Asgrow seed dealer Jeff Olson, a farmer who has experimented with various conservation tillage practices on his own land for years. Olson says when it comes to choosing which seed varieties to plant, most considerations are universal.
"I think the considerations are going to be very similar between reduced tillage or no-till situation versus conventional," Olson says. "You still want to pick out those hybrids that have the characteristics that you're looking for. Among the characteristics when you get into a little more residue management and conservation tillage is going to be good seed emergence and good seedling growth. Those are the two things I'm going to look at if a guy tells me 'here's the situation I'm going to put it in.'"
Olson says while the tillage technique warrants consideration, the type of soil in which the seed will be planted makes more of a difference.
For Hegland, accessing professional resources such as university researchers or agronomists is important. But so too is listening to the expertise of other farmers who've gone through their own seasons of strip-till.
"I think people are ready and willing to share their experience and help people get started," Hegland says.
Listen to full audio episode:
---
FREE RESOURCE
Add to your strip-till knowledge by downloading our ebook today!