The SoilWarrior® X row unit is ideal for fields requiring deep fall tillage and precise seedbed preparation in the spring.
The SoilWarrior X is the foundation of our business and what sets us apart from the competition because it does not use a shank/knife. It cuts through and blends crop residue with ease and resists plugging.
In deep configuration, a large 30-inch diameter cog wheel with replaceable iron tillage bits fractures the soil up to 12 inches deep and blends fertilizer sub-soil in the zone. It is followed by two large adjustable coulters to form a berm that warms quickly in the spring. Removable gauge wheels help provide depth control.
The SoilWarrior X can be converted to perform shallow tillage (2-6" deep) and create the ideal seedbed by replacing the cog wheel with two 20-inch wavy coulters. The coulters churn the soil with sub-soil fertilizer placement and aeration. This configuration can be used year round, but is great for spring because it promotes rapid germination and early root development.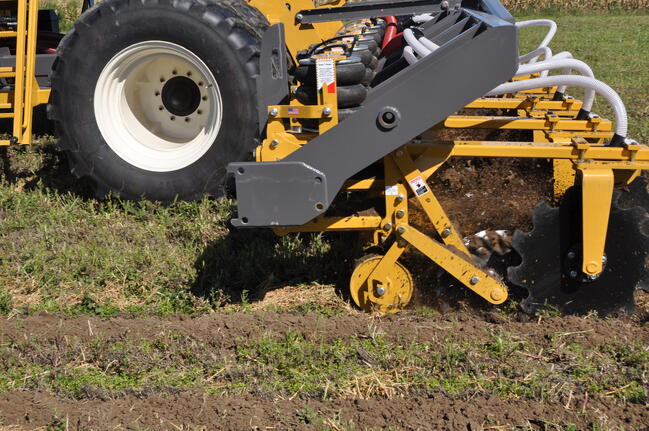 Noteworthy features
UNIQUE COG WHEEL DESIGN
Patented large cog wheel with ductile iron tillage bits, provides unmatched performance, cuts and blends residue, aerates and conditions soil, and incorporates nutrients throughout the tilled zone.
FALL TILLAGE
Up to 12″ deep zone tillage with liquid or dry sub-surface fertilizer placement.
SPRING TILLAGE
Up to 6" deep zone tillage with liquid or dry sub-surface fertilizer placement.
MULTIPLE CONFIGURATIONS AVAILABLE
Up to 16 row units with row spacing down to 20″.
HEAVY-DUTY AIR SPRING DESIGN
Allows on-the-go adjustable air down pressure from the cab to match field conditions. Eliminates the need for mechanical springs.
LARGEST SERRATED CONTAINMENT COULTERS IN THE INDUSTRY
Maximize incorporation efficiencies and allows for better control when managing berm height and width.
RUGGED PARALLEL LINKAGE
Allows 18″ of vertical travel to roll up and over rocks and other obstructions.
OIL BATH HUBS
Unique seal design and tapered roller bearings bathed in oil for extended use. No daily hub greasing means you get out on the field faster during critical times of the year.
HEAVY-DUTY COMPONENTS
Means ETS implements are built to last.
EASY TO INTEGRATE
Existing monitors and GPS systems integrate with the SoilWarrior so you can connect to your existing precision farming system without headaches or difficulty.
DEDICATED FERTILIZER SYSTEM
Integrated directly into the SoilWarrior row unit set up provides easy operation, easy control, and excellent in-field maneuverability.
LARGE CAPACITY
Liquid or dry fertilizer systems can be accommodated by SoilWarrior's construction-grade cart. Choose the option that is best suited for your farm.
---
SOILWARRIOR X SPECS
---
ROW SPACING
Down to 20″.
CONFIGURATIONS
Up to 16 Rows.
ROW UNIT
Parallel linkage with 18″ of vertical travel allows cog wheel and coulter design to climb over obstacles. (No need for shear pins or auto resets.) Heavy-duty oil bath hubs. Includes unique seals for cog wheels, coulters and gauge wheels. 30″ diameter cog wheel with 10 replaceable ductile iron tillage bits — for deep tillage. Two 2″ wavy coulters, 20″ (diameter) — for shallow tillage. 11″ diameter steel gauge wheel. Two 25″ diameter serrated containment coulters; adjustable widths/angles. 1.25″ pivot bushings with case hardened, grease relieved pivot pins. Heavy-duty air bag with 16″ of expansion.
TOOLBAR MODELS
7 x 7 x .5 steel tubing throughout. Models 2215/2220/2222: Single rigid toolbar with weight kit design (6R30, 8R30, and 12R22 configurations). Model 2520: Single folding toolbar design, 95º fold (8R30 configuration). Models 4020/4030: Double folding toolbar design (front bar: 7 x 7 x .5, rear bar: 5 x 7.5); 90º fold (8R30 and 12R30 configurations). Models 4030C/4040C: Double folding toolbar design (front bar: 7 x 7 x .5, rear bar: 5 x 7 x .5); removable wing clips; 90º fold (8/12R30 and 8/16R30 configurations).
CART ASSEMBLIES
Non-tilting long arms for 8R30 and smaller; tilting long arms for 12R30 and larger HD axles available for various row spacings (4.5″ spindle. 20,000#, 10-bolt hubs), used with dual tire options. Standard-duty axles available for various row spacings (3.375″ spindle, 12,000#, 10-bolt hub,), used with single tire options. Dual tire option (required in all dry fertilizer configurations and 12R30 and larger liquid fertilizer configurations) uses either 420/90R30 R-1 radial tire or 540/65R30 R-1 radial tire. Single tire option (optional on liquid fertilizer configurations smaller than 12R30) uses either 420/90R30 R-1 radial tire or 540/65R30 R-1 radial tire. Guidance ready implement steering available.
LIQUID FERTILIZER
1500 gallon capacity liquid fertilizer poly tank and twin elliptical 300 gallon poly tanks for extra capacity. Hypro 9300 Series Pump; 115 GPM maximum.
IMPLEMENT STEERING
Steerable hitch permits over 20″ of offset through centerline of tractor.
GRANULAR FERTILIZER
220 bu. capacity (19,000 lbs @ 90 lb product density); dual powder coated steel hoppers. Hydraulically driven blower, 2.5″ diameter delivery tubing. Individual multi-run UHMW plastic spiral fluted metering rolls. Infinite adjustable hydraulic drive. Option: Dual-rate (dual product) hydraulic drive. Option: Weightronix® scale system.
ADDITIONAL OPTIONS
Hydraulic-driven air compressor; 6.74 – 10.10 cfm. Adjustable air regulation system; 70 psi relief valve setting. Single or dual-camera system with monitor.
---
SOIL WARRIOR X PHOTOS
---