Strip-Till: A Neighborhood of Differences
Strip-tillage may be a new term to some of those in the farming industry, but for three neighbors, strip-till has been on their farms for over two decades. Each farmer has discovered benefits from using strip-till on their operation. While their equipment may differ, their soil and yields are thriving as a result of their practices. Meet these three farmers from Morristown, Minnesota, and discover the differences in their strip-tillage operations.
Dan Morgan started strip-tilling about 17 years ago. "I had heard about other farmers in the area that were strip-tilling, so I did some research of my own to see if it could benefit our farm," said Morgan. His operation uses a Case IH 5310 NitroTiller with a pull behind air cart. Morgan's strip-tiller has the knife to band nitrogen, and he utilizes the air cart to have larger capacity for less fill ups.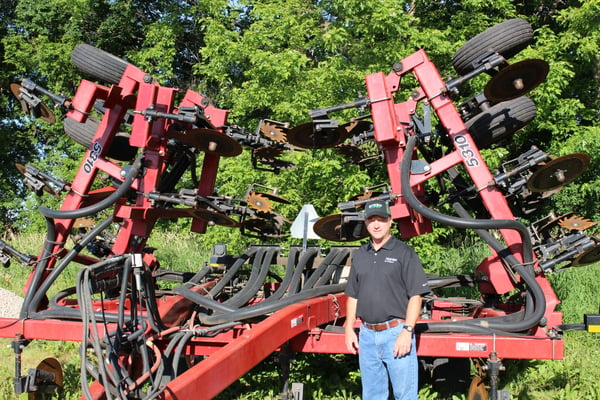 The benefits of strip-tilling have been noticeable over the years for his farm, but it did not just happen overnight. Morgan added, "It just takes some time to get used to the concept of not ripping the ground each spring and waiting on the results of strip-till." Each fall, Morgan's equipment strip-tills about 2,500 acres between their operation and custom work for others. Most of his strip-tilling happens when rotating from soybeans to corn. They use dry fertilizer which is ESN-encapsulated nitrogen, potash, and phosphorus. He prefers to strip-till in the fall because of the time management issues that can come with the spring weather.
Over the years, the advantages of Morgan's equipment have shown large gains in production and soil health. "The water infiltration and the overall soil health has become noticeable," said Morgan. The switch from conventional tillage to strip-tillage cut his trips across the field in half. The large size of the tool bar results in less tractor hours compared to the use of conventional tillage. "We are able to take on more acres and crops more efficiently because of the time and energy we save. As a strip-tillage farm, we are better," concluded Morgan.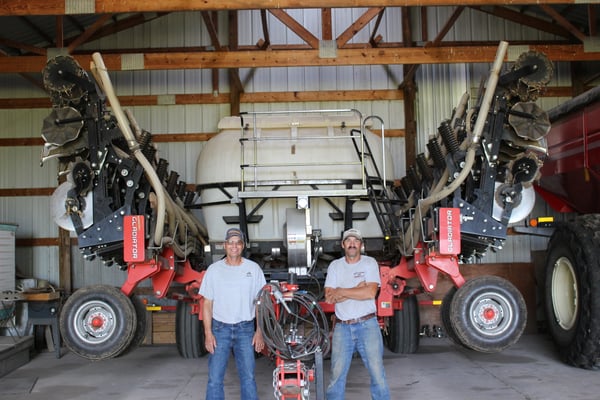 Dave Morris and his brother, Mark, are conventional farmers who strip-tilled about 840 acres last year. Their corn and soybean operation began strip-tilling about 25 years ago. The first few years were strip-tilled by a local ag service, and after some time, they purchased equipment to strip-till on their own.
The Morris operation currently runs a Kuhn Krause Gladiator. Their plan includes using the mole knife to fertilize with ESN in the strip as well as with side dressing. They appreciate the way the mole knife loosens up the ground better, and how the reset plow never allows a tooth to break due to a large rock in the field. "We normally strip-till in the fall with corn that will become soybeans in the spring," said Mark Morris. The benefits of strip-tilling have improved their overall production compared to conventional tillage. He added, "For us, spring planting goes a lot faster. We do not have to wait for the ground to dry out to plant. With strip-till, we can plant on a little bit of wetter field."
Morris' operation is saving time on the number of trips over the field. The energy and time being saved on Morris' operation has made them more efficient and improved soil health. "I look at our fuel consumption, it is probably a third less. Time savings is at least two days every field," said Dave Morris.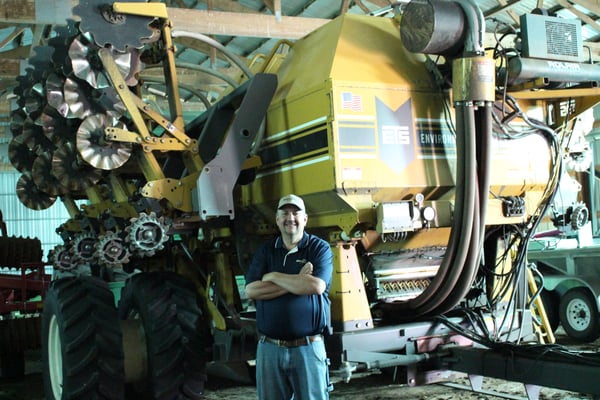 The last of our three farmers is Brad Spinler. Spinler runs a corn and soybean operation in Morristown, too. Last fall, his farm strip-tilled about 1,600 acres. His farm didn't always use strip-tillage, but he wasn't a conventional tiller either. Spinler's operation previously used ridge tillage, which is a system that involves planting on ridges that were scalped and cultivated from the previous year's crop. After some years of inconsistent yields and some complications with planting due to root mass, he decided to give strip-till a chance. "Now with strip-tillage, I have seen better soil quality and fertilizer effectiveness," said Spinler.
Currently, Spinler runs a SoilWarrior 4530 SXD 12-row applying a dry potash mix to his acres. He likes the durability and speed of his machine. "I can use it in corn stalks without any residue plugging," said Spinler. "I can take it through wetter soils, and it can handle those more adverse conditions."
His operation strip-tills all his corn and soybean acres, which differs from Morgan and Morris. Spinler is open to the idea of both fall and spring strip-till when it works best for the field, but he prefers fall to reduce the amount of hustle in the spring.
While Spinler prefers strip-tilling, his fuel consumption has not been cut into a third like the other two. "Ridge tillage's time and energy wasn't much different compared to strip-tillage," added Spinler. "For those who switched from conventional tillage, the change is day and night for them." For Spinler, taking care of the soil and the land you own is a priority, and strip-tillage can provide that.
Conservation tillage benefits not only the land itself, but the farmer too. Morgan, Morris and Spinler all experienced improvements in their soil's water holding capacity, biological diversity of the field, and economic benefits. Additional common denominators for all three are less tillage, better soil health, and the bonus of increased yields. Differences among these neighbors include economic benefits such as time and fuel savings as well as equipment used to accomplish their strip-tillage goals. Overall, these three neighbors are advocates for strip-tillage and its positive environmental impact.
---
Download our ebook and read more about strip-till in action.