ETS Welcomes Mark Hewitt, Service Manager
The service department welcomes Mark Hewitt as the new Service Manager. Mark will be supporting all SoilWarrior clients and dealers as the head of the service department. Excellent customer support is a priority for Environmental Tillage Systems (ETS), and Mark is eager to continue this standard in his new role.
---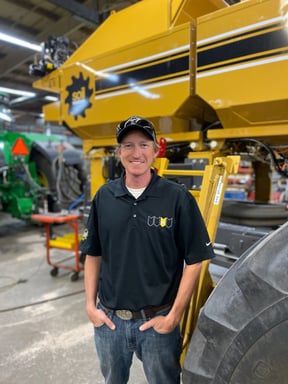 ETS is excited to have Mark's extensive agriculture background as a part of our service department. He has had the opportunity to work as a service technician for two different implement dealers, Ziegler CAT and John Deere. Mark also has a passion for precision technology. That passion led him to instruct precision agriculture at a local college and own a precision agriculture business specializing in UAV imagery, crop consulting and soil sampling.
When Mark isn't learning about the SoilWarrior or helping on the family farm, he is involved with his local community as a firefighter/EMT and a member of the Farm Bureau (county and state). He also enjoys spending time with his wife and two kids.
Hewitt says," I'm excited to join ETS because I believe farming is something to be passed down to the next generation. My family and I are farming land that has been in my wife's family over 100 years. I believe that strip till is a great way to conserve our land to be passed down for the next 100 years. I have a passion for helping farmers improve their farm, and I believe ETS is a great company that's really working hard for farmers."
Environmental Tillage Systems is a premier manufacturer of zone tillage and nutrient placement equipment in Faribault, Minnesota. Its flagship product is the SoilWarrior, a complete strip-till system that enhances soil productivity and farm profitability. ETS products set the standard for in-field performance, machine durability, and ease of operation. Founded on a farm in southeast Minnesota, the company serves clients throughout North America and internationally. To learn more, visit soilwarrior.com.
---
For more information about Environmental Tillage Systems and our products