Danny's Durable Solution to Rocky Field Conditions
Danny Beach is no stranger to the rocky conditions of western New York. Being surrounded by production agriculture his whole life, he knows that rocks can cause many costly problems. He has seen farmers year after year trying to combat the rocks in all their fields. The frustration grows as rocks are always a problem, and the solution to the problem isn't clear. Let's see what Danny has to say about dealing with rocky field conditions in western New York.
Nearly every farm has some sort of machine dedicated to picking rocks, whether it be a pull-type rock picker, a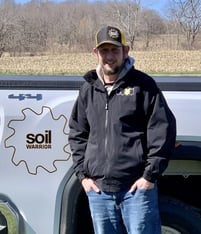 homemade self-propelled rock picker, or a rock bucket mounted on a front loader or skid steer. Rock picking is time-consuming and labor-intensive. Finding someone who has the time or is willing to do the job can be challenging.

Yet, not picking rocks can hurt the whole operation. Rocks can cause severe damage to everything from tillage tools to planters to tractors and combines. That damage leads to downtime, which is something no one can afford.
One way that farmers are trying to overcome rocky field conditions is through strip-tilling. The idea is not to turn all the soil and leave as many rocks in the
ground as possible. However, strip-till units using a shank often pull up rocks too, creating a need for an extra pass in the field with the rock picker before planting.

Since being introduced to the SoilWarrior almost two years ago, I have been hooked. The SoilWarrior has all but eliminated the need for that extra pass, let alone the need for a rock picker as a part of spring planting. The parallel linkage allows the row-unit to pass up and over the obstacle hidden in the ground with over 12 inches of vertical travel.

Every SoilWarrior row-unit is dependable enough to maintain consistent down pressure in the harshest conditions,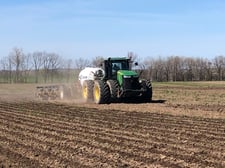 whether it is a stony knoll or a compacted headland. Last year, a farm near Oakfield, NY was able to run the SoilWarrior with the X row-unit with the deep cog over the headlands just after being dug due to replacing underground water pipes. The row-unit air pressures were increased a little bit and proceeded to make a nice seedbed amidst the rocks that were brought to the surface from the pipework.

The SoilWarrior is durable enough to take the beating in our adverse soil
conditions that other tillage equipment cannot handle. It is always up to the challenge and will perform in the toughest conditions giving the producer their desired results. Danny has always been a firm believer that, if a machine can prove its' worth in the tough conditions of western New York, it can make it anywhere.
---
See the SoilWarrior row units in action on your farm.