DairyWarrior
When it comes to strip-tilling with a SoilWarrior on a dairy farm, many think, "that will never work." Luckily, we have seen how dairy farmers can incorporate a SoilWarrior into their operation and remain sustainable and prosperous.
Mike Fischer of Fischer – Clark Dairy owns 1,000 head of dairy cows near central Wisconsin. Fischer started to incorporate a SoilWarrior into their operation eight years ago because he didn't like what his previous tillage practice was doing to their land.
"We started with it [strip-tilling] because we didn't like what tillage was doing with our hills, and I don't like erosion." said Fischer.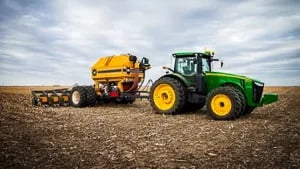 The manure application process for Fischer – Clark Dairy was a challenge when first incorporating the SoilWarrior, but it has resulted in some significant experimenting. They wanted to find a way to make it work, and through some testing, it turned out to have more benefits than they thought.
Manure application is often a logistical issue noted by dairy farmers considering strip tillage. "It's probably the biggest challenge. It's one of the reasons that people will say dairy farming and strip-tilling won't work. We decided right from the get-go that we would make it work."
One of these ideas Fischer – Clark Dairy came up with was to apply manure in the summer between crops. They could apply in the spring and fall, but only if it didn't interfere with planting or harvesting.
"We realized it was better for us to put the manure between crops. So now we're doing that and interseeding grass in the alfalfa because we do that in the 2nd year of alfalfa."
Since adding the grass to the rotation, the fields are firmer and more resistant to erosion and soil compaction. This allows them to apply the manure at a lower and more sustainable rate, and the summer application decreases the amount of manure they have to spread in the fall.
"Adding the grass, we have changed that equation, and the yield keeps increasing. It's also improved the cows' health; having grass in the mixture is good for a ruminant. The cows are healthier, our yield has improved, and one thing led to the next."
Among the ways that the SoilWarrior has benefited Fischer – Clark Dairy over the years, Fischer noted that their soil has changed and improved with better soil structure and increased organic matter.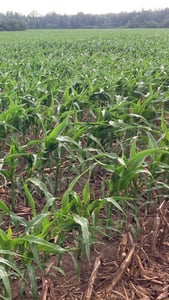 "The soil visually looks healthier. There's less erosion. The SoilWarrior is an avenue to get to no-till if that's what you want, especially on a dairy farm. Some people say you'll get a reduction in yield; I think with the SoilWarrior, you can maintain yield," said Fischer.
Strip-till has also had a positive impact on their corn ground too. "Strip-tilling allows us to apply manure, spring and fall on corn ground with less compaction and at a lower rate."
Fischer – Clark Dairy is no stranger to experimenting and trying out new practices and has been able to learn what will work in their operation over the years. They are constantly learning from the machine and what it can do and finding better ways to do things.
"You have to think long-term to make it happen because you learn something new every year," said Fischer.
Even when it may seem impossible, implementing change is always worth exploring. Fischer – Clark Dairy is no exception to this. Finding a way to make the SoilWarrior work for their operation has taken some time, but the results were worth it.
---
Meet another DairyWarrior. See how strip-till works on Amos's farm.