Meet the Newest SoilWarrior Marketer, Catie Schmidt
The founder of our Instagram account, the editor of our virtual tradeshow and the producer behind local strip-tillage events like our Zone Schools, meet Catie Schmidt, ETS Marketing & Sales Coordinator.
---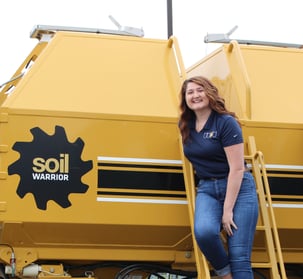 Her career at Environmental Tillage Systems started in a year unlike any other. Catie Schmidt joined ETS as the Marketing Intern in 2020 just after the pandemic hit while wrapping up her junior year of college. Her internship quickly pivoted from a heavy event-based experience to project-based as event after event was cancelled, transitioned to virtual or postponed. What was supposed to be a summer of traveling the Midwest for tradeshows and field days ended up as a summer of working in the office.
"We were determined to make Catie's summer internship experience great, even if we couldn't travel to many events," said Caitlin Keck, ETS Marketing Director. Catie used her experience with audio and video editing from her college courses at the University of Minnesota, and under the mentorship of ETS Marketing Manager Kristin Krell, pulled together a half-hour virtual tradeshow video for the National Strip-Tillage Conference in only a week. Catie and Kristin transformed a small conference room into a recording studio and directed ETS Regional Sales Manager Dave Sender as he moderated the virtual tradeshow.
Catie also filmed an informative video about the SoilWarrior ISOBUS Control Module for our YouTube channel during the summer of 2020 and interviewed several farmers and customers for blogs. She also launched our Instagram account, which has accumulated over 550 followers a year later.
"With a strong understanding of content development and marketing at ETS, we asked Catie to stay on as a marketing intern for the fall of her senior year," said Keck. "Then we extended her internship to spring and then we offered her a full-time role as our new Marketing & Sales Coordinator."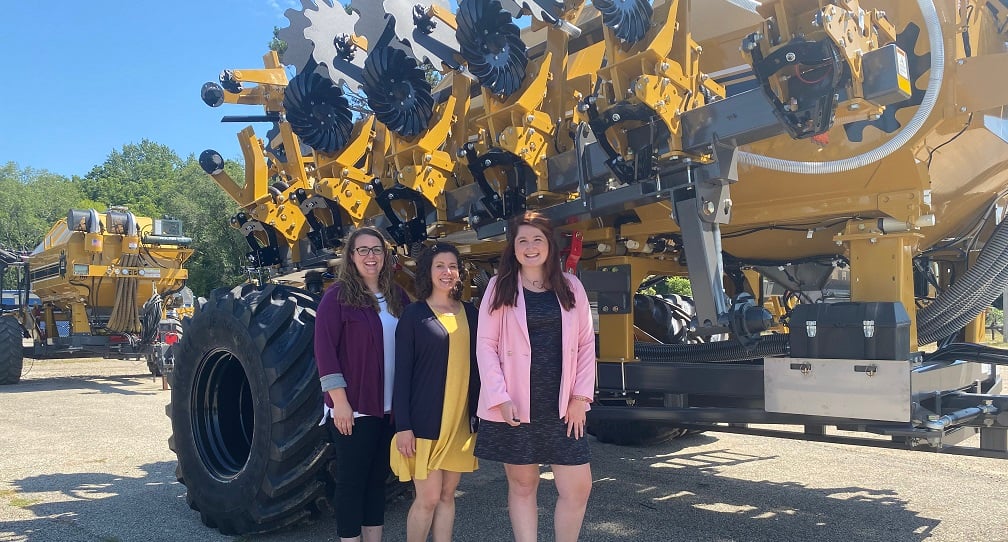 The ETS Marketing Team - Kristin Krell, Caitlin Keck & Catie Schmidt (we know, it's a little confusing 😉).
"I chose to stay at ETS for a few reasons because I love working with my coworkers here, and I saw a great opportunity to expand my knowledge in this career field," said Schmidt. "It's cool to work in a smaller marketing department because we easily bounce ideas off each other, and I get to be creative in my day- to- day job. Plus, I wanted to experience a summer on the road for field days and farm shows."
Catie experienced a more typical ETS marketing summer in 2021. She traveled to 14 different events across 8 states and traveled over 12,000 miles.
"Ag PhD Field Day was one of my favorite events. It was a great day! I was able to meet not only prospective customers, but I was finally able to meet current customers in person," said Schmidt. "It's a blast getting to know our customers. They love promoting our product and being a part of the success of the SoilWarrior."
Help us welcome Catie to the team! Give us a like on social media, request a SoilWarrior demo on our website or attend an upcoming event and say hello.
---
For more information about Environmental Tillage Systems and our products