ETS Customers Attend National Strip-Tillage Conference
Many Environmental Tillage Systems customers are interested in learning more about strip-tillage practices, even after they purchase a machine. We caught up with Ron Frankenstein and Darin Stolte at National Strip-Tillage Conference to ask them about their experiences at the conference and running a SoilWarrior.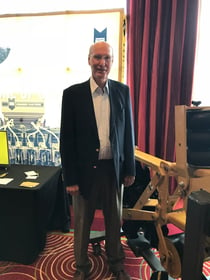 Ron Frankenstein has been running his SoilWarrior in Redfield, South Dakota for one year. Ron says, " I am very happy with my SoilWarrior and would buy again". Frankenstein says he likes the SoilWarrior because the fertilizer is incorporated in the zone. He was looking for a system that allowed the fertilizer to be deeper in the zone and was concerned with making sure the nutrients were in the right place. He often tells people, "ETS has great people to work with. You should try out (a SoilWarrior) and see the difference."
Frankenstein was attending his second National Strip-Tillage Conference. Ron says he attends the Conference to continue to learn more about strip-tillage. Ron isn't the only one with this same idea, over 360 people attended the conference this year.
----
Darin Stolte is in his first year running the SoilWarrior on his farm in Olin, Iowa. Stolte runs a deep cog on his farm and says, "The SoilWarrior is the machine for me". Darin commented about the change he has seen since running his SoilWarrior and says, "I don't miss the smear of the full width tillage."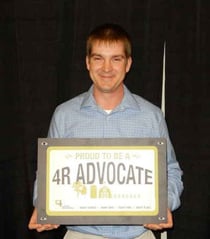 This year was Stolte's first National Strip-Tillage Conference where he gained more knowledge about becoming a better strip-till farmer and to learn from other farmers in order to try different practices on his own farm.
Stolte is very active on social media and shares his own experiences with many strip-till farmers. Stolte says, "Social media allows me to see what other people are doing and learn from other from all around the country. I share my own story because I am a 4R advocate and think it is important to start a conversation online".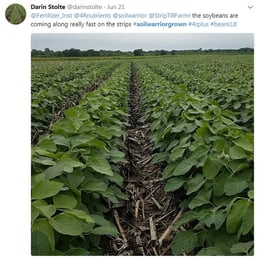 ----
Farmers like Frankenstein and Stolte are just two examples of customers trying to tell their SoilWarrior story online and in person. If you want to start a conversation online with farmers like Stolte use hashtags like, #striptill, #SoilWarriorGrown and tag us, @soilwarrior, in your posts.
*Stolte photo by Brownfield Ag News
**Soybean picture courtesy of Darin Stolte
---
Download our eBook to learn more about SoilWarrior zone tillage.