Finding a Better Way to Manage Soil & Nutrients
Meet 2016 4R Advocate Darin Stolte
If you're young and progressive, you can identify with this farmer. He was chosen as a 2016 4R Advocate by the Fertilizer Institute for his focus on nutrient stewardship. Since then, he's sought out more practices and innovations that help him achieve the goals of 4R Nutrient Stewardship. He's been using strip-till on his eastern Iowa farm since 2018. He has a passion for sharing what he's learned with other farmers, like you. In fact, he hosted the 2019 Iowa 4R Field Day on his farm. We had the opportunity to ask him some questions about his farming operation and practices this past spring. See what he had to say - meet Darin.
Tell us about yourself.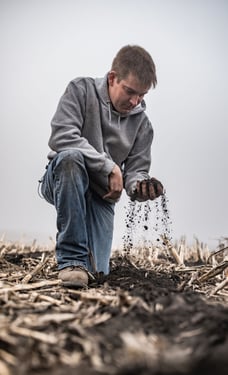 My name is Darin Stolte. I farm in eastern Iowa by the little town of Olin. I've farmed my whole life I guess. I've been by my dad's side ever since I was little. I grow corn and soybeans and a little bit of alfalfa and have a cow calf herd. I farm with my retired dad, and I also have a business partner as well.
What's your role in the farming operation?
I manage everything. I'm an operator. I manage buying inputs. I mange marketing grain. I take care of everything that the operation needs to have done.
What's your favorite thing about farming?
It's always a challenge, and I like challenges. And I know it can be stressful at times but you work through those problems and you get to be your own boss. Farming does get difficult on days – if the weather doesn't cooperate or if the grain markets don't cooperate, you can lose a lot of money or you can make a lot of money. It's just something you have to stick with. If you fail, you got to get back up and start over again – that's with any business. It's something to be proud of when you retire, to pass down to the next generation.
What's the biggest milestone you've achieved on your farm?
The biggest milestone I've achieved on my farm is taking yields from a little above county averages to way above county averages. My return on investment has become real positive, and that helps add to my bottom line.
What does the 4R Advocate award mean to you?
The 4R advocate award meant a lot to me. It made me realize that I have a positive role in this industry, and I'm more than willing to help people out and teach people new ways to farm, and better ways to farm. I mean we're all in this together – we need to reduce runoff, we need to reduce soil erosion, we need to increase the sustainability of our farms – we have to pass these down to the next generation and the next generation after that.
What prompted you to try strip tillage on your farm?
I used conventional tillage on my operation until 2016, and I always thought there was a better way. I was seeing too much soil erosion. I wanted a better way to apply nutrients, so I decided to demo a strip till machine, and I chose a SoilWarrior. I chose that over other machines because I like the coulter versus a shank style machine. We actually planted some soybeans behind it and saw some great results. So, then I decided to commit every acre to strip till.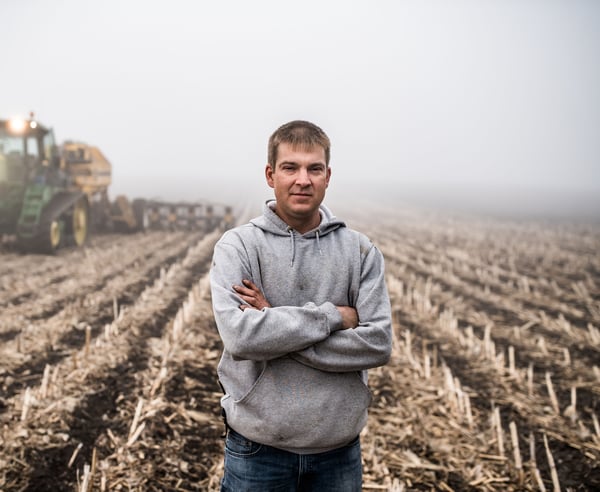 Why is it important for farmers to place nutrients in the zone?
I think it's very important for me, and every farmer, to place nutrients in the zone so plants can uptake them and we don't have runoff. I really like how the SoilWarrior places the nutrients in the zone. Everything is right here where the plant needs it. Every one of my nutrients that I place on the farm is right here in the root zone with the planter and the SoilWarrior. This is the first year that all of my nutrients are going to be placed in the root zone, and it's pretty exciting to see that.
Why do you like the one pass system?
It's really important to me to build the seed bed and apply nutrients in the zone at the same time. It increases my efficiency, and I don't have to make another trip across the field to apply nutrients. It helps increase my bottom line, by having two trips in one pass.
What benefits have you seen from strip tillage?
I've seen some real benefits from strip tilling, especially with the SoilWarrior. I've went away from full-width tillage, which used to take hours and hours and hours to do. The SoilWarrior has enabled me to decrease hours on tractors. I don't need as much labor anymore. We're increasing efficiency by running two trips in one pass at high speeds, and my fuel savings has been tremendous.
The SoilWarrior helped me step away from full-width tillage, only pulling 12 to 14 feet at a time in the fall – now we're pulling 40 feet and a lot faster through the fields. So, in a year like this one, it's really beneficial to have a machine like this, and place nutrients in the zone all at the same time.
Were there any advantages to using the SoilWarrior this year?
I feel like with the strip-till system we're not damaging those natural drainage channels that are in the soil, so our water can infiltrate down through the soil and we can run maybe 1 to 3 days earlier than full-width conventional tillage. In a spring like this has been so far in 2019, 1 to 2 days could be a big deal at the end. It might be the difference in having to take prevent plant versus not having to take prevent plant, so I really feel like the strip till system is going to be a big benefit not only for nutrient placement but for more days in the field.
Tell us about your cover crops.
I started with cover crops this last year. I have like 160 acres, and I didn't know really what I was doing when I got into it. I realize now that I've seen a lot of benefits already and it's only been the first year. So, I plan on expanding my acres for 2020 to hopefully three quarters of the farm.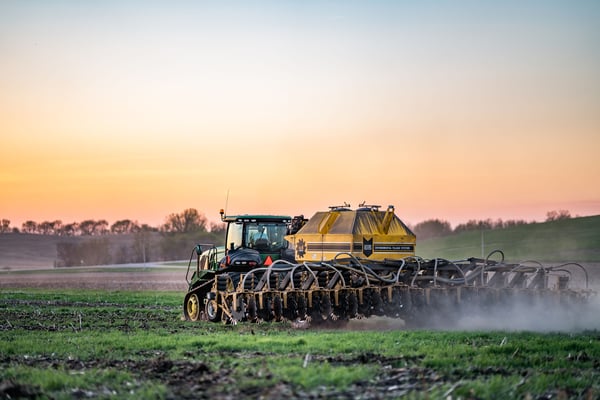 What advice would you give to others wanting to implement new practices on their farm?
I guess the neighbors opinions don't bother me, because somebody needs to be a role model and there's always better ways to do everything. I'm willing to learn and willing to talk to people, and I'm willing to change. The biggest thing I always tell people when you're trying something new, you don't have to try it on the whole farm – you just try it on a small acreage. I don't so much worry about how much I spend, I worry about the return on my investment.
---
Download our eBook to learn more about SoilWarrior zone tillage.