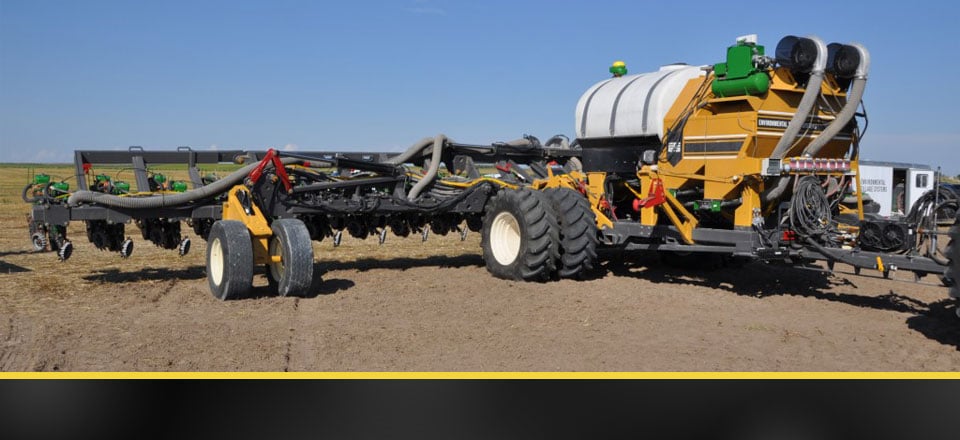 SEED WARRIOR® DELIVERS UNMATCHED PRECISION, POWER, AND CONTROL. THE ETS SEED WARRIOR® IS DESIGNED TO GIVE YOU UNPRECEDENTED CONTROL DURING PLANTING, COMBINING THE SUB-INCH ACCURACY OF PRECISION GUIDANCE WITH A TRUE HIGH-VOLUME, INTEGRATED PLANTER. SEED AND FERTILIZE WITH FEWER TRIPS, MAKE FEWER STOPS, AND ENJOY THE LARGEST IN-FIELD CARRYING CAPACITY OF ANY MACHINE ON THE MARKET. ADD TO THAT OUR NEW IMPLEMENT STEERING TECHNOLOGY, AND YOU HAVE A PRECISION-GUIDED PLANTER THAT CAN HELP YOU REACH THE GREATEST POTENTIAL ON EACH ACRE…
---
---
HUGE SEED AND FERTILIZER CAPACITIES
Up to 150 Bags of seed (7500 lbs.), and up to 1250 Gallons of Liquid Fertilizer, with air controlled fertilizer shutoff valves on each row unit.
ACTIVE DOWN PRESSURE ON WINGS
Assists in tough and no-till conditions.
ETS HYDRAULIC SEED METER DRIVE
Electric over hydraulic controller, designed to ETS specifications, is compatible with most commercial control monitors and is warranted for 5 years.
ETS CENTRAL FILL SYSTEM
Steel seed tank, with an exclusive rapid clean out system, minimizes static electricity build up.
UNIQUE COMPACT FOLDING TOOLBAR
Toolbar drives flex and articulate for an incredibly compact fold and transport position.
PRECISION FARMING ENABLED
Precision guidance ready for accurate seed and fertilizer placement.
UNMATCHED IN-FIELD PERFORMANCE
With a larger capacity that lets you make fewer in-field stops you can cover more acres per hour and minimize fuel cost. Plus, SeedWarrior® delivers unbeatable maneuverability, letting you plant when the time is right, no matter the field conditions.
INCREASED YIELD POTENTIAL
SeedWarrior®'s implement steering technology enables you to perform precision guided planting, making your seed placement extremely accurate. And by fertilizing and planting at the same time, you can create the best possible environment for seed growth with a minimum of waste.
TRANSPORTATION
SeedWarrior® configurations up to 40 feet in width utilize standard folding toolbar design. Configurations up to 60 feet in width utilize compound folding toolbar design, allowing for safe and efficient transport.
SeedWarrior®'s unique design can accommodate any planter unit on the market.
---
SPECS
---
ROW SPACING
Available in all standard row spacings.
ROW UNITS
Accommodate most commercial row units.
TOOLBAR WIDTHS
40′ or 60′.
SEED CAPACITY
150 Bags of seed (7,500 lbs).
FERTILIZER CAPACITY
1,250 gallons.
MACHINE WEIGHT
24R20 at 20,260 lbs.
TRANSPORT WIDTH
40′ at 16′ 4″.
---
EQUIPMENT PHOTOS
---