Making changes to your farming operation can be scary and even painful for your pocketbook if you end up taking the wrong path. After all, the average farmer has the opportunity to plant and harvest a crop 50 times during his or her lifetime. That doesn't leave a lot of room for error.
Switching to strip-till is one of those changes. It means investing in RTK, selling several pieces of equipment, tackling your own fertilizer application, and learning new techniques. With that kind of commitment, you want to be sure you've got the right products and people on your side.
At ETS, we believe trialability is key to making the transition. Our on-farm demos, rental program, and flexible leasing with guaranteed buy back, allow you to experience the benefits of the SoilWarrior before committing to purchase.
Here's a quick look at our options to try before you buy:
Try One, Before You Buy One
Schedule a Demo. No matter how you get in touch with us - phone, email, social media, or website request - you can trust that a member of our sales team will be happy to demonstrate the SoilWarrior X (deep and shallow) and N row units on your farm. Our three-row demo warrior allows you to compare zones and see how the row units blend soil. Invite business partners, farm operators, and neighbors to join in this hands-on experience.

Once you've seen the SoilWarrior row units in action, the next step is getting a price quote and deciding if you'd like to rent, lease, or own.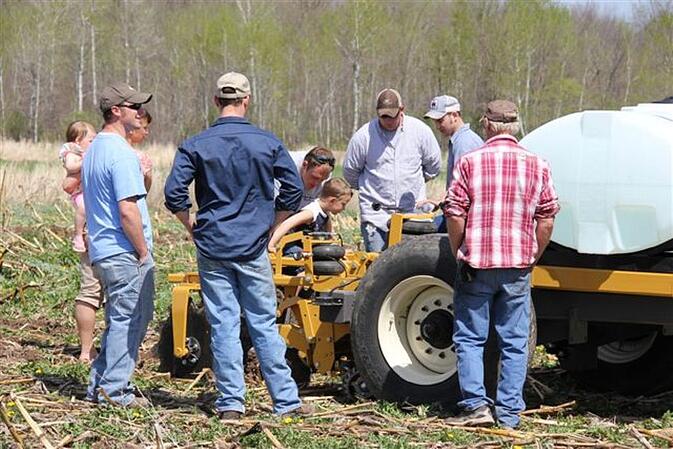 Rent the Equipment for a Season
Rent. Our rental program allows you to use a SoilWarrior for one season – spring or fall – at a cost of $14.50 to $15.50 per acre depending on if you need a monitor. At the end of that season, if you choose to lease or purchase a new machine, you can apply 75 percent of your rental payment toward the transaction. If you decide it's not right for you, we'll take it back. Used SoilWarriors always seem to be in high demand. Keep in mind there is some extra costs for transportation and machine inspections.
Leasing with Buy Back Option
Lease a SoilWarrior. We like to describe our leasing program as a 365-day test drive with guaranteed buy back. That's because you finance the machine as a lease and have unlimited use for one year or two seasons. At the end, if you decide not to keep it, we'll buy it back. No questions asked as long as you performed proper maintenance and followed ETS usage guidlines.
Choosing a lease has many benefits. According to Dan Takle, Territory Manager for Ag Direct, leasing can help you:
Improve Cash Flow. Lower commodity prices and tighter margins makes leasing an attractive option for equipment purchases in 2015. A high residual lease offers lower payments that are easier to cash flow.
Maximize tax benefits. With Section 179 back to $25,000 and no bonus depreciation in 2015, a true lease may help a producer lower taxable income. A conditional sales lease allows farmers to take advantage of the same low payments but take depreciation just as they would with a loan. Consider a lower residual with a higher payment for faster expensing of equipment purchases.
Estate Planning. Leasing can be a simple way to transfer equipment to the next generation at the end of the lease term.
According to Takle, there are no early termination fees or penalties with an Ag Direct lease under $500,00. If a grower decides to trade before the end of the lease term, the trade equity may be applied toward the first lease payment on a new lease. Some restrictions do apply so he advises producers to contact their financial advisor to help determine the right type of lease.
ETS offers these options because we believe our systems are the best on the market and we're not afraid to put them to the test. Over the years we have found that most farmers who rent or lease a SoilWarrior end up purchasing because it delivers on its promise of precision, versatility, and durability.
But purchasing the right equipment is only the first step toward strip-till success. It also takes perseverance, patience, and a commitment to revitalizing your soil.
Ready to take the first step and see a SoilWarrior in action? We are now scheduling appointments for spring demos. Click the blue button to get started.