Environmental Tillage Systems (ETS) welcomes Parker Pitzen to the team as the 2019 Engineering Intern. As a student at Iowa State University (ISU) majoring in Agricultural Engineering with an Agricultural Business minor Parker feels that this internship will provide him with skills and experiences needed for future job opportunities.
---

Parker is from Clear Lake, IA and will be a senior this fall at the ISU. Parker shares what he could consider a dream job,"My dream job is testing farm equipment whether it be tractors, combines, or other types of large equipment. I like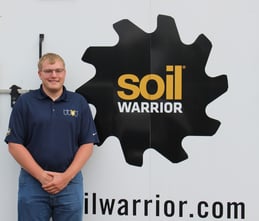 to be a part of the whole engineering process, but I really enjoy testing. If something does need to be changed, I can make the change and see how much it improved the piece of equipment."
Scott Opsahl, ETS Senior Design Engineer is excited to have Parker on his team."The Engineering department is fortunate to have the opportunity to work with some great interns each year. This summer, Parker will be helping us complete a variety of engineering tasks on several different projects throughout the summer."
Outside of the engineering office Parker hopes to squeeze a little hunting, fishing and farming in this summer. When football season starts Parker cannot wait to attend all of the home football games at ISU, Go Cyclones!
Environmental Tillage Systems is a premier manufacturer of zone tillage and nutrient placement equipment in Faribault, Minnesota. Its flagship product is the SoilWarrior, a complete strip-till system that enhances soil productivity and farm profitability. ETS products set the standard for in-field performance, machine durability, and ease of operation. Founded on a farm in southeast Minnesota, the company serves clients throughout North America and internationally. To learn more, visit soilwarrior.com.
---
For more information about Environmental Tillage Systems and our products