Environmental Tillage System (ETS) is excited to have Megan Mathew as the summer intern for the Marketing and Communications department. This fall Megan will begin her senior year at the University of Minnesota majoring in Agricultural Marketing and Communications.
---
Production agriculture wasn't a part of Megan's daily life growing up in Elko, MN, but she quickly learned in college that agriculture is integral to everyone's lives, and the job opportunities are endless.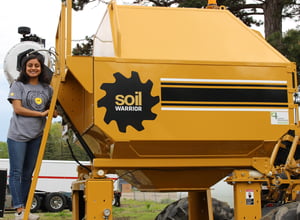 Megan was interested in the internship at ETS because it would give her a chance to apply her marketing and communications knowledge in a real world position and gain experience in production agriculture. Megan explains what she enjoys most about her internship so far, "I am enjoying learning about ETS especially how social media is utilized with sales and marketing and learning about the farmer's perspective."
The Sales and Marketing team is excited to have Megan as a member of the team this summer. Megan will be assisting with the planning and execution of many events and tradeshows, creating engaging content for social media, blogging for the company, and serving as a professional brand ambassador. It is our goal at ETS to provide summer interns with a work environment that allows students to gain knowledge and experience within their fields of study along with utilizing their skills for the betterment of the company.
When Megan is not in class or learning about agriculture you can find her in the dance studio. She is a member of the Bollywood Fusion dance team Minnesota Junoon. Her other hobbies include watching cooking shows, making food and eating.
Environmental Tillage Systems is a premier manufacturer of zone tillage and nutrient placement equipment in Faribault, Minnesota. Its flagship product is the SoilWarrior, a complete strip-till system that enhances soil productivity and farm profitability. ETS products set the standard for in-field performance, machine durability, and ease of operation. Founded on a farm in southeast Minnesota, the company serves clients throughout North America and internationally. To learn more, visit soilwarrior.com.
---
For more information about Environmental Tillage Systems and our products