We're proud to announce that Henry Kelley has joined the ETS team as a Design Engineer. Kelley graduated from Iowa State University with a Masters of Engineering in Mechanical Engineering in August. In his new role, he will support the Senior Engineer by conducting research and development to enhance existing SoilWarrior tillage systems and implement innovative ideas.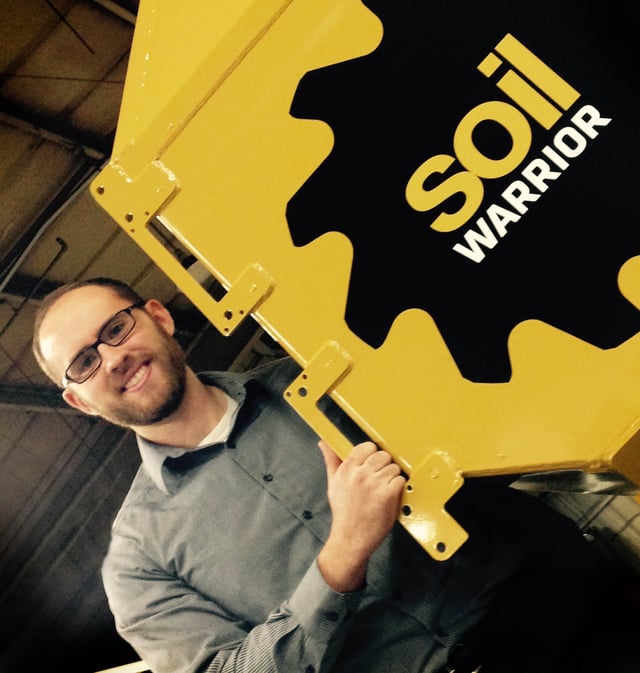 Here are 5 reasons why we're excited to welcome Henry to our team:
He has manufacturing experience. In 2012 Kelley completed a test engineering internship with Pierce Manufacturing – the leading manufacturer of fire truck and airport rescue vehicles. He tested new products to determine costs, ensure government compliance, and the effects of temperature on integration of new cooling systems.
He cares about the environment. Kelley spent time with the Iowa Department of Natural Resources Pollution Prevention Services as the Pollution Prevention Intern. His main task was managing a project for Shearer Foods to demonstrate how the company could reduce pollution while saving money. He was also an Environmental Sustainability Coordinator at his dormitory at ISU.
He doesn't just sit at a desk. For 5 years, Kelley competed on Iowa State's Men's Track and Field team and was named a First Team All-Academic Big 12 in 2013-2014. This athleticism will come in handy during pick-up basketball games in the ETS shop during lunch breaks.
He's not afraid of new experiences. Kelley studied abroad at two different universities located in Istanbul, Turkey and Hangzhou, China.
He has a natural talent for applying engineering knowledge in real-world situations. As team leader of his Senior Design Team Capstone Project, he helped implement technology that made it easier for a third grade student with cerebral palsy to type at a computer.
"Henry is a great fit for ETS because he has a positive attitude and is eager to dig into projects. For growing companies like ours to stay at the front-edge of technology, we need to source young talent who can analyze ideas and turn them into reliable, safe, and effective products. We're happy to have him here and even more happy that he's ready to hit the ground running," says ETS Senior Engineer, Scott Opsahl.
ETS is a premier manufacturer of zone tillage equipment in Faribault, Minn. Its flagship product is the SoilWarrior, a complete strip-till system that enhances soil productivity and farm profitability. ETS products the standard for in-field performance, machine durability, and ease of operation. Founded on the farm in southeast Minnesota, the company now serves clients in the USA, Canada, Australia, and New Zealand.
---