Ryan Wernsman has joined the Environmental Tillage Systems (ETS) team as a Regional Sales/ Key Account Manager for Colorado and Western Nebraska. Ryan will manage regional sales and support dealerships with innovative agricultural equipment, SoilWarrior.
---
Wernsman brings over ten years of sales experience in the banking and agricultural manufacturing industries. He grew up on a corn and wheat farm in Haxtun, Colorado and later attended Colorado State University where he received a Bachelor's Degree in Business Organizational Management.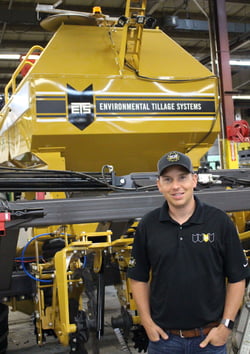 Wernsman says, "I am excited to join ETS because I truly believe in the product, company and the entire team! I am very eager to share and educate current and prospective customers about the SoilWarrior and everything it has to offer."
Environmental Tillage Systems is a premier manufacturer of zone tillage and nutrient placement equipment in Faribault, Minn. Its flagship product is the SoilWarrior, a complete strip-till system that enhances soil productivity and farm profitability. ETS products set the standard for in-field performance, machine durability, and ease of operation. Founded on a farm in southeast Minnesota, the company now serves clients in the USA, Canada, Australia, New Zealand, and Zimbabwe. To learn more, visit soilwarrior.com.
---
For more information about Environmental Tillage Systems and our products