Gavin Held has joined the Environmental Tillage Systems (ETS) team as the Precision Ag Specialist. Gavin will work with all ETS departments, customers, dealerships, and cooperatives to support precision technology.
---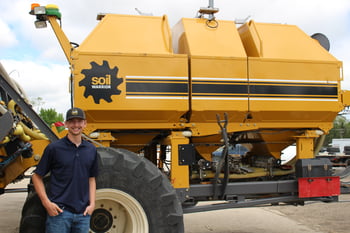 Gavin grew up in Waconia, MN and is a recent graduate from South Dakota State University (SDSU) with a degree in Agricultural Systems Technology and a minor in Precision Agriculture. Gavin enjoys spending time with friends and family as well as hunting, fishing, and ranch rodeos. Gavin is no stranger to ETS as he served as the 2017 Precision Ag Intern. He also brings experiences from the SDSU Precision Ag department as a lab assistant.
Tanner Schuldt, ETS Service Manager, shares his enthusiasm as he welcomes Gavin to the ETS team. "I am very excited to have Gavin on the team. His experience and the time he spent with ETS as an intern has already proven to be quite valuable. Gavin will be a very important asset as ETS continues to support technological systems associated with precision agriculture."
Environmental Tillage Systems is a premier manufacturer of zone tillage and nutrient placement equipment in Faribault, Minn. Its flagship product is the SoilWarrior, a complete strip-till system that enhances soil productivity and farm profitability. ETS products set the standard for in-field performance, machine durability, and ease of operation. Founded on a farm in southeast Minnesota, the company serves clients across North America and internationally. To learn more, visit soilwarrior.com.
---
Join us at the conference. Sign up today!
We're proud to be a title sponsor of the conference.