Environmental Tillage Systems (ETS) welcomes Craig Denton to the team as the Financial Controller. Craig will provide financial management and strategic planning knowledge with the senior leadership team and CEO.
---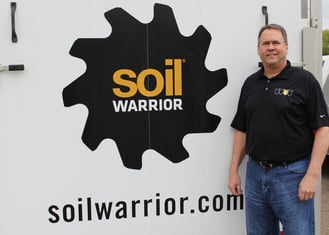 Craig has 30 years of accounting management experience including serving as Controller in his previous job for over 5 years. Craig is eager to use his skills at ETS. In his free time, Craig enjoys golfing, fantasy football, and spending time with friends and family.
Craig shares his experiences thus far at ETS. "My first week at ETS was great! I had the great opportunity to see a SoilWarrior in the field and learn about strip tillage and the beneficial differences from others in our industry. I was also able to meet our business partners from Northland Capital and understand what they bring to our customers as well as ETS. I am excited about the opportunities that are present here at ETS, looking forward to learning more and helping realize this company's growth potential."
Environmental Tillage Systems is a premier manufacturer of zone tillage and nutrient placement equipment in Faribault, Minn. Its flagship product is the SoilWarrior, a complete strip-till system that enhances soil productivity and farm profitability. ETS products set the standard for in-field performance, machine durability, and ease of operation. Founded on a farm in southeast Minnesota, the company serves clients across North America and internationally. To learn more, visit soilwarrior.com.
---
For more information about Environmental Tillage Systems and our products