ETS Welcomes Casey Bishman, Supply Chain Manager
Casey Bishman has joined the Environmental Tillage Systems (ETS) team as Supply Chain Manager. Casey will ensure that sufficient raw materials and other necessary items are procured and ready to create ETS premier tillage equipment.
---
Bishman has an extensive background in the supply chain industry including his previous role as a materials manger and purchasing agent for a manufacturer of power distribution equipment. A graduate of University of Minnesota Duluth, with a degree in Business Management, Bishman is eager to use his skills at ETS.
"It's exciting to have Casey on staff and we are looking forward to putting his professional experience to work for us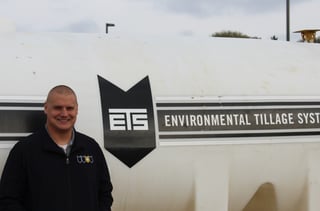 at ETS," said Tony Thompson, ETS Director of Operations. "Casey comes to us from a local company where he helped build efficient support systems for that growing company. Those experiences fit directly into the improvements we are looking to implement into our supply chain department at ETS."
Environmental Tillage Systems is a premier manufacturer of zone tillage and nutrient placement equipment in Faribault, Minn. Its flagship product is the SoilWarrior, a complete strip-till system that enhances soil productivity and farm profitability. ETS products set the standard for in-field performance, machine durability, and ease of operation. Founded on a farm in southeast Minnesota, the company now serves clients in the USA, Canada, Australia, New Zealand, and Zimbabwe. To learn more, visit soilwarrior.com.
---
For more information about Environmental Tillage Systems and our products