Brady Keehl has joined the Environmental Tillage Systems (ETS) team as an Assembly Technician. Brady is working on our main production floor assembling ETS equipment.
---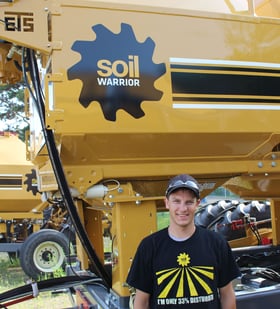 Brady previously worked on a family farm for over five years where he helped with daily operations, custom drainage tile installation,and assembly of John Deere tillage equipment for a local dealership. Brady is new to Faribault and is currently planning a wedding for next summer. In his free time, Brady enjoys ice fishing, bow hunting, and being outdoors.
Brady commented on why he enjoys working at ETS saying, "ETS provides a positive work environment with friendly co-workers and the tools to be successful."
Environmental Tillage Systems is a premier manufacturer of zone tillage and nutrient placement equipment in Faribault, Minn. Its flagship product is the SoilWarrior, a complete strip-till system that enhances soil productivity and farm profitability. ETS products set the standard for in-field performance, machine durability, and ease of operation. Founded on a farm in southeast Minnesota, the company serves clients across North America and internationally. To learn more, visit soilwarrior.com.
---
For more information about Environmental Tillage Systems and our products